By John D. Sutter
CNN





This story is part of an ongoing series of profiles by CNN about economic survival in this time of financial crisis.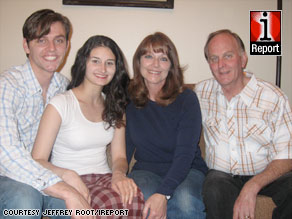 Jeffrey and Mandi Root, left, moved in with Jeffrey's parents, right, to pay off debt.
(CNN) -- Jeffrey Root was running out of money working a fast-food job when he decided to seek a last-resort remedy to his financial woes:
He quit the job and moved into his parents' basement with his wife.
Root, a 26-year-old from Springville, Utah, says that was one of the best decisions he could have made. He sees his story as proof the economic crisis has an upside: It can help people ratchet down on needless spending and focus attention on things money can't buy.
"Staying close to your family in times of need, that's the most important thing in the economic crisis," he said.
For many, these are tough times. The unemployment rate is at 7.6 percent and employers cut 598,000 jobs in January, more than in any month since December 1974. A new jobs report is due out on Friday.
But, while he acknowledges that his situation is not as dire as many, Root says people should look for unexpected joy in the struggle.
"Reading all these negative stories and stuff, I was realized people don't know what it's like to live without an iPod," said Root, who first shared his story on CNN's iReport.com. "I'd say we're really spoiled ... We really do need to look at what's important."
For Root, that's a revelation that came from watching his father.
The pair were working together at a Sonic Drive-In when Jeffrey Root's dad, John Root, 65, decided to quit working as a fast-food manager to become a real estate agent.
Realizing he didn't want to have to make such a tough turnaround in his 60s, Jeffrey Root decided to leave his job, too, to pursue an English degree full-time at Utah Valley University.
"I always wanted a college education but I couldn't afford it," Jeffrey Root said.
When Root's parents suggested Jeffrey Root and his wife of two years, Mandi, 22, move into a bedroom in their basement, the couple reluctantly decided to take the offer, said Mandi Root. It was the only way they thought they could make ends meet.
She has found unexpected happiness in her in-laws' home.
"Now that we're living there, it's been really great," Mandi Root said.
Jeffrey Root is one of 10 siblings. Only two others are living in their parents' home now, but the others come by from time to time. That's been a big change for Mandi Root, who married into the family after growing up in a less-crowded home.
Again, though, it's a change she says is for the better.
"It's different. It's a lot different having so many siblings around all the time, but I like it, I like the company," she said. "They're like our best friends. We hang out with them all the time."
Mandi Root said families are too hesitant about supporting each other during tough times.
"It's sad that people feel like they can't turn to their families for help, or they feel like there's something bad in doing that. I don't feel like it's bad at all. That should be what your family is there for, you know, to back you up when times are hard," she said.
"I would do the same for anybody else -- you know, if I could."
The arrangement seems to have worked out well for Jeffrey Root's parents, too.
Jeffrey's dad, John, says his son is "just fun to have around," plus he helps troubleshoot problems with the family computer, mows the lawn and buys some groceries.
There's some evidence that more families are living in multigenerational households these days.
In a recent poll of people ages 18 and older, the AARP found about a quarter of them were living with their parents or in-laws; and about one in seven were living with a sibling.
About 15 percent of the 1,002 people polled by the organization said they're at some risk of having to move back into their parents' home. And about a third of those at risk said they may have to do so because of job loss.
Overall, the number of multigenerational houses has increased from 5 million in 2000 to 6.2 million in 2008, the AARP says. That trend takes into account older people who move into their children's homes, but also indicates an increase in "boomerang children" who move back in with their parents after leaving their home, according to Elinor Ginzler, the organization's senior vice president for livable communities.
Without rent to pay, Jeffrey and Mandi Root said they've been able to knock out more than half of their credit card debt. Jeffrey works part-time at his university and Mandi works full time at a men's clothing store.
They've pared down their expenses in several ways. The couple sold one of their three cars and they now carpool to work in a used Chevy. Jeffrey Root is restoring their other car, a 1965 Volkswagen Beetle, and plans to put it up for sale when he's finished. He also sold a motorcycle.
Instead of spending money going out to eat or taking vacations to Disneyland, they go camping frequently. See financial tips from Root's original iReport post
The overall goal is to "just find ways to be happy with what you have," he said.
He said he doesn't miss any of the amenities of his life before.
"They just made my life more complicated," he said. "Now I've gotten rid of those things I've been able to focus on my studies more. I'm getting better grades."
He added: "Instead of turning to my motorcycle to go out and joy ride I can turn to a book or spend more time with my wife," both of which are more enjoyable anyway, he said.
Jeffrey Root is a sophomore undergraduate now. When he graduates, he plans to become a teacher.
He says the nation's students need to know the world doesn't owe them favors. They have to put in hard work, and that's what he says he'll expect from them.
"We've always had a really good, hardworking family," he said. "That's what I've been taught is to work hard and to try to make the best of things -- and smile."
E-mail to a friend

All About National Economy • iReport.com • Utah • Unemployment Rate