By Helen Schulman





(Real Simple) -- I often daydream about an ideal dinner.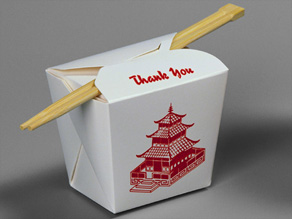 A mother of two longs to cook for her family, but realizes takeout can be pretty good, too.
In these admittedly rather mundane flights of fancy, I have a gleaming, serene kitchen (with new appliances!), and I cook lovely, nutritious meals for my family. Stuff like swordfish and pasta in a fragrant tomato-fennel sauce. We would start with Caesar salad, the kind I used to make when it was just my husband and I. I would toast croutons and shower the romaine leaves with a lemony vinaigrette. There would be sautéed broccoli on the side and for dessert a fresh fruit tart (made by me, of course -- it's my daydream!).
My husband and I, along with our children -- Zoe, age 12, and Isaac, 9 -- would sit down together to eat, drink, and talk.
I love to cook, and I love my family ... so why is it so hard for me to make this seemingly ordinary event, homemade tart or no, a reality?
My own mother worked, she had three kids, she took care of her aging mother, and we all sat down to a healthy dinner that she cooked herself, seven nights a week. Most of the moms that I knew back then, whether they worked or stayed at home, were responsible for all the nightly meals.
Now I think: How did Mom do it? When I came home in the evening, something always smelled delicious. Of course, it helped that my mother was home at the dinner hour. She was a social worker, had a conventional work schedule, and was usually back by six. (She was also great at making soups and stews that reheated beautifully.) Real Simple: 5-star soup recipes
I work days and some evenings. Even the nights I'm home are chaotic, as everyone has a different schedule, homework, and after-school activities. Back in the 70s, when I was a kid, we ferried ourselves around to dance classes and music lessons by bus and subway, and my mom didn't have to deal with all our extracurriculars. My own workday, because I'm always on some deadline or other, feels as if it's never over.
Don't get me wrong -- I love my work (I write and teach); I just don't like my schedule. My husband's timetable is just as nuts. He almost never eats with the kids, although he tries to get home most nights in time to read to them before they go to sleep.
As for home-cooked meals, what I do is "procure" and "arrange." I buy precut fruit and vegetables on my way home from work, even though they are a ridiculous waste of money, because when I actually do cook, it means even more time apart: I'm away in the kitchen and the kids are in the living room on Club Penguin or watching "America's Next Top Model."
I try to whip up something fast enough (quesadillas, organic mac and cheese) to be able to sit down with the kids so they can eat at a decent hour and still have time for a shower. Or when we've really had a long day, I order in: Chinese, Cuban, Cuban-Chinese.
I have a glass of wine, and we talk sports and pop culture and the election. I try to dry tears and soothe preadolescent angst. Later, when the kids are asleep, I'll eat my own meal with their father; sometimes we just pour ourselves some dry cereal and milk. Real Simple: Three recipes for busy families
So here's my question: Does it count as a family dinner if only one parent is home and that parent ordered in?
When we bustle in after school and after dark, my children sniff the air in the hallways of our building. Some of our neighbors are cooking supper, and often delicious smells travel up the central stairwell. "Mmm," the kids say, before we walk into our airless apartment with its cold stove.
Sure, it would be nice for my children to associate the rich aroma of simmering stews and roasts with coming home to their own house, as I did when I was young. But how is this possible when I'm running all over town to pick them up? And, honestly, they don't seem to be suffering too much -- they eat reasonably nutritious meals, meals bought and plated with love. Most of the family-dinner frustration seems to be mine alone. Real Simple: 20 20-minute meals
So what if my son has his Proustian Mom-moment whenever he inhales as he walks by our local Chinese restaurant? I have made a fragile, pragmatic peace with what we have. At least when I call in the order -- "Isaac's regular" -- I do it with devotion.
And, this way, for the rest of his life -- be it in the fraternity house, his bachelor pad, or his family's home, as he frantically tries to feed his own growing offspring -- when he opens that front door, smiles at the delivery person, and smells the chicken and broccoli in brown sauce, the kid will think of me.
E-mail to a friend

Get a FREE TRIAL issue of Real Simple - CLICK HERE !
Copyright 2007 Time Inc. All rights reserved.
All About Food and Cooking • Parenting