From Thelma Gutierrez
CNN






LOS ANGELES, California (CNN) -- Kenneth Chancey, 17, walks down the littered streets of Skid Row, one of the roughest areas of Los Angeles. Drug deals are made around him. A man screams at his girlfriend. The stench of the place is overwhelming.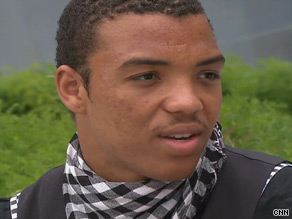 Kenneth Chancey, 17, is a homeless honors student who hopes to eventually attend Harvard University.
Chancey keeps his head down and tries to tune it out. "It's kind of horrible," he says, as he escorts his 14-year-old sister, Stephanie, through it all.
But Chancey is on another journey too, one that not many of his friends know about. An honors student and star football player, he hopes to go from being homeless to becoming a Harvard grad.
"I would love to be able to say that I graduated from Harvard University with a Ph.D. in medicine and be able to share my story," he says. "I have to dream because obviously my reality is horrible."

Watch Chancey discuss his plans »
Chancey has just finished his junior year at Hollywood's Helen Bernstein High School, where he was named best overall academic student. He's student body president and, not surprisingly, one of the most popular kids.
He's the starting running back on the football team, cutting and dashing his way past his opponents.
But when classes and practices end, Chancey begins the arduous journey home with his sister, a trek that takes over an hour. He lives at Skid Row with his father and sister, at the Union Rescue Mission, a homeless shelter.
Money & Main St.
CNN has a series to help you take control of your job, money and home!
Thursday, starting 6 a.m. ET

It's a tough existence. But one better than when he was in sixth grade, when he says he lived in a van with his mother and stepfather. His mom did drugs in front of him and, he says, his stepfather would hit him.
His father, Gordon Costello, says he's proud of his son for emerging as a leader, despite everything that's been thrown at him.
"It's a real learning experience, because he never wants to see himself in this position. So I think it benefits him in a great way," Costello says. "It's not necessarily the lesson I would have wanted to give to him ... [but] I am proud of him."
He adds that it took a lot of getting used to a shelter. "They hated it," he says. "But they somehow managed to adjust and we just decided to make the best of it."
Alma Flores, one of his teachers, says Chancey has a dynamic personality that attracts students to him. "He's good in athletics. He's good in academics. He's good at getting people to get involved," Flores says.
Don't Miss
Chancey doesn't hold back. He showed students a PowerPoint presentation of his life and told them they should strive to do great things -- "If I can do it and I'm in this [situation], then you can do it," he says.
He's in the process of applying to Harvard. He hopes to eventually become a doctor. He knows he can't afford its $50,000-plus-a-year tuition, but he's not going to let that keep him from dreaming.

"I know that I'm better than Skid Row. I know that I can accomplish something," he says.
If he has children one day, he says, he hopes it's a lesson to pass on to them. "I would love to tell my kids that I graduated from the top school -- that ... if I can do it, you can do it."
E-mail to a friend

CNN's Wayne Drash, Traci Tamura and Gregg Canes contributed to this report.
All About Economic Policy • National Coalition for the Homeless