By Mayra Cuevas
CNN





(CNN) -- The sculptures speak for themselves: Piñatas in the shape of decapitated heads bearing gunshot wounds adorn the walls of El Paso's Public Library in Texas.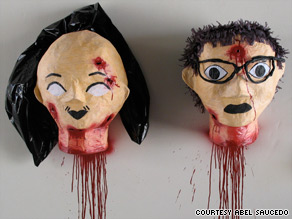 Artist Abel Saucedo says the exhibit, "Ciudad Juarez es the .1" has drawn mixed emotions from viewers.
The exhibit, called "Ciudad Juarez es the .1," is the work of local artist Abel Saucedo, 24, a recent arts graduate of the University of Texas in El Paso.
Saucedo grew up in El Paso and Ciudad Juarez across the border in Mexico, and says violence is now a normal part of life on the border.
"Every time you have a conversation here violence is brought up. It's on the front page, it's part of everyone's life, it's a reality. I decided to use a piñata because it's a way to identify with my culture," Saucedo said in a phone interview.
The collection, which Saucedo describes as post modern conceptualism, contains four individual piñata sculptures in the shape of cartoon heads a bit larger than life size. The heads look as if they have been severed at the bottom of the neck and they are adorned with red paint and shot wounds on the forehead.
They are all men -- one has glasses, one a golden tooth, one is smiling, and one has a mustache.
"They don't represent anyone in particular, just the violence in the border," Saucedo said.
"I got a pressure gun and shot each piñata so it would look like a gunshot. I also filled the pressure gun with red paint so it would drip down the face," Saucedo said.
The pieces, which took Saucedo six months to complete, were received with mixed emotions.
"I have had all kinds of responses. People like them, they think it's a great idea. People think its offensive, sad, it's humorous, but people say it's the truth. In art I've learned that everything everyone says, it's an opinion," said Saucedo.
El Paso Library spokesman Jack Galindo said the library had only one official complaint -- a man said he was "very offended" by the pieces. The library receives around 1,592 visitors per day.
"As a person living here in the community, as an artist, this is my opportunity to speak, and it's tragic. My family and friends have had to move, it's tragic. I feel it's my responsibility as an artist to represent those feelings," said Saucedo.
Enrique Torres, spokesman for the Mexican state of Chihuahua's Joint Operation said the violence is as brutal as ever.
"We have anything from one dead a day to six or seven. Criminal groups have changed their strategy. They used to operate in high profile vehicles and large caliber weapons, now they use low caliber weapons and older model compact vehicles which are harder to detect," said Torres.
Chihuahua's Joint Operation oversees 7,000 Mexican soldiers operating in Juarez working alongside 2,300 federal Police and local police forces.
"Ciudad Juarez es the .1" will run until July 31.
E-mail to a friend

All About El Paso • Ciudad Juarez