By Jessica Ravitz
CNN





(CNN) -- Mike Ramsdell was recently out of film school when the 9/11 attacks threw America's sense of security upside down.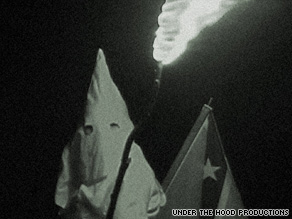 "The Anatomy of Hate" explores who Ku Klux Klan members are as human beings, beneath the hoods.
Born to a Lebanese mother and a father who is a social studies teacher, the Michigan native grappled with the horror of what happened to his country that day just as he paid attention to people's reactions.
When he heard President Bush's declaration of war on terrorism, he thought to himself: "A lot of people are going to die."
He set out on a six-year journey to explore that which fuels wars big and small, real and perceived. He wanted to know why people hate.
"If we are a species that is born with the intent to live a peaceful, prosperous and content life," Ramsdell, 36, wanted to know, "why is it that we've never been able to collectively achieve that?"
The filmmaking odyssey took him to the white supremacist movement, to Christian fundamentalists with an anti-gay agenda and across the globe to the Middle East. There he spent time with Muslim extremists, Palestinians fighting the Intifada, Israeli settlers and soldiers and with American troops serving in Iraq.
Along the way, he weighed in with a team of experts in psychology, sociology and neurology.
"I never confronted anyone in an ideological context," he said, describing how he gained access to groups and individuals. "My goal at the end of the day was to understand."
The end result was "The Anatomy of Hate: A Dialogue for Hope," an award-winning documentary from Under the Hood Productions. The film will screen in Atlanta, Georgia, Saturday evening at the Carter Center as part of the Atlanta International Documentary Film Festival, also known as DocuFest.
CNN spoke with Ramsdell about the film, the points that tested him most and the aspects that gave him hope. Here are excerpts from that interview.
CNN: Where did you start when you set out to make this film?
Ramsdell: I knew the Middle East was what I had to get to, but I started with white supremacists. I wanted to get into their living rooms, get to the human side. I got in with Tom Metzger [of the White Aryan Resistance] and through him met Billy Roper [of the White Revolution]. Billy was very new, very raw and very willing to be open and candid. We are about the same age, have the same academic background and same goals to create the ideal world for our children. His happens to be a white world; mine is a more unified world.
CNN: How was it spending time with Fred Phelps [the virulent anti-gay founder of Westboro Baptist Church in Topeka, Kansas, a group that often pickets at funerals for U.S. service members]?
Ramsdell: The one who is the most unilaterally hated is Fred Phelps, but in the 1960s those same people who hate him would be talking about what a huge hero he was [as a civil rights attorney]. He was the only white attorney who took on the case of 300 black students at the University of Kansas that did a sit-in, got arrested, and he got all of them off.
CNN: How can someone like that also say what he says about the gay community?
Ramsdell: He's a force of a human being. If you believe what's written in the Bible [the way he does], then you're just a man living out your belief system. Whose interpretation of the Bible is right?
CNN: Of everything you saw, what got to you most?
Ramsdell: When you see kids involved, it's very emotional. I'm a parent -- have two kids, one on the way. The kid hit with an IED [improvised explosive device] in Iraq. To hear this kid screaming for his father, there's nothing that you can say is worth this. Or to see kids in Israel [both Israelis and Palestinians, he clarified] with their Elmo backpacks get attacked, there's no disconnect at that point. Boy, if I was born there, there's no way I would have been able to keep my head about me.
CNN: Did you emerge from this experience with more or less faith in humankind?
Ramsdell: When you're able to take the evil out of the enemy and go hang out with them, you can understand how this process [of hating others] has happened. Behind all of this awfulness is just people. You realize how possible it is to not be this way and how saddening it is that it is this way.
CNN: What in this process gave you the most hope?
Ramsdell: Combatants for Peace [a group of former Israeli soldiers and Palestinian fighters who've come together to try and end the cycle of violence]. The fear over there is palpable; it's off the charts. Right after filming, an Arab combatant's daughter was shot and killed. [An Israeli, also featured in the film, had lost his little sister in a suicide bomber attack.] In the worst possible circumstances, these guys held onto their beliefs. That's beyond courage and hope. It's just unbelievable. They're a true example of what we as human beings can be.
To learn more about the film, see clips, find out about screenings or grassroots efforts for dialogues, visit http://anatomyofhate.com/.
E-mail to a friend