By Christine Romans
CNN





(CNN) -- Kathryn Gutowski is a stay-at-home mother of four. For the past 11 years she has juggled laundry, carpooling and homework. Before becoming a mom, she was an attorney. She always planned to re-enter the work force, so she kept her skills polished, renewed her license regularly and did volunteer work.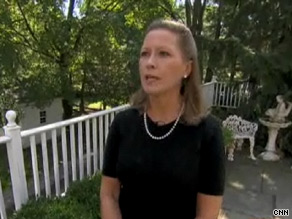 Attorney Kathryn Gutowski found it hard to get back into the work force after taking 11 years off to raise her kids.
With one child in college, another about to enter college, and 10-year-old twins, Gutowski realized that she needed to get back to work. She appreciated having had the luxury of staying at her Montclair, New Jersey, home with her kids, but like so many other American families, the equity in her home, college savings and retirement savings began to plummet last year.
When the time came, Gutowski pounded the pavement for more than a year.
"I started to respond to job postings on the Internet and I would send out a résumé and I would hear absolutely nothing," she said.
Gutowski finally connected with a program at Pace Law School in White Plains, New York, that caters to lawyer moms like her. Pace's New Directions program helps women who have been away from the work force get back into the game while still maintaining a work-life balance.
Gutowski was able to land an "externship" at a law school admissions office. Companies such as Sara Lee and Goldman Sachs have similar programs known as "returnships."



Watch CNN's Christine Romans report challenges and strategies of stay-at-home moms who return to work »
"A lot of people don't realize a woman's brain does not stop functioning because she is raising children," Gutowski said. "The organization skills you acquire caring for four children under 7 years old are transferable to any setting."
Unlike Gutowski, though, many mothers simply cannot take time off work to raise their kids. This year has seen a major decrease in the number of professional women taking large blocks of time off work, because they can't afford to lose their incomes.
Not included in the 14.9 million Americans who are officially unemployed are stay-at-home moms who had intended to go back to work once their kids entered school. They kept their skills up and maintained contacts and are now eager to find jobs, either spurred by the recession or because it was their plan all along.
According to new Pew Research Center statistics, only 21 percent of stay-at-home moms are college graduates, while 34 percent of working moms have degrees.
While a significant number of men (51 percent) and women (34 percent) said inability to find work was a "big reason" they were unemployed, according to the Pew report, far more women cited child care considerations as a major reason (27 percent) than did men (3 percent). Read the Pew Research Center report, "The Harried Life of the Working Mother"
Mary Bowden of Summit, New Jersey, has been out of the work force for seven years after more than a decade in marketing and sales. When her children were born, Bowden found that being away from them was too much of a challenge. And her salary, which hovered between $40,000 and $60,000, just barely covered the costs associated with child care.
Ideally, Bowden had hoped to find a 9-to-5 shift in her field so she could be with her kids in the evenings, but she had no luck. She didn't have the experience for a pay grade that would have made the child care expense worthwhile.
As a result, for the past two years Bowden has baby-sat the children of another family while caring for her own. She's found it the only way to bring in viable income. Bowden says that as a nurturing mother, she can bring in $18-$20 an hour, which is more than most nannies make.
Bowden said she realizes that the more time she spends outside the work force, the more it's likely she'll have to accept a lower position and work her way up.
Other mothers, such as Kathleen Rumell Greco, stepped back from their careers and took jobs in different fields in order to spend more time with their kids. But that work doesn't always give a boost to the résumé.
"I was forced to take lesser-paying jobs in teaching in order to maintain a needed income flow and benefit coverage for my children," she said. "I now find that employers do not value my experience."
While the job search in such a tight labor market can be overwhelming, getting a foot in the door is as much about résumé content as it is about interview confidence, said Sylvia Ann Hewlett, economist and founder of the Center for Work-Life Policy.
"It's not as though women are super-rusty when they come back," she said. "The things that are most difficult for women [are] about building up a professional network again and about coming to terms with the double juggling act."
Hewlett advised activating every network you have, whether it's the PTA or your college alumnae, and showcasing your skills -- everything from helping your child's school with fundraising to planning a big event for Boy Scouts or Girl Scouts.
Women make up nearly half the nation's labor force. That's up from 38 percent in 1970. Seventy-five percent of Americans reject the notion that women should return to their so-called traditional roles in society, as most believe both husband and wife should contribute to the household income.

Bowden said she has internal struggles. She wants to be a good role model for her own daughter and feels guilty because she wants to teach her that women can achieve in the business world as well as on the home front. Bowden does, after all, have a degree from a top business school.
Gutowski said she's going to urge her teenage daughters to work part time, at the very least, when they have children of their own so they don't find themselves in her situation.
E-mail to a friend

CNN's Joanna DiGeronimo contributed to this report.
All About Parenting • Childcare • Jobs and Labor