7 surprising ways to save on pet care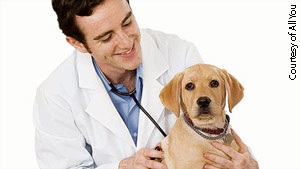 With proper planning, owning a pet doesn't have to come with financial surprises.
STORY HIGHLIGHTS
Using a local veterinary college for pet care can save on bills
Excessive grooming and high-end toys just aren't necessary
Food in bulk and online prescriptions can lessen financial burden
Pet insurance and regular checkups can pay off in the end
(All You) -- Keep your furry friend happy and healthy without breaking the bank.
Reduce the cost of checkups
Regular vet visits are essential for your pet in order to keep up with vaccinations and detect health problems. Do a Google search or look in the Yellow Pages to see if there is a veterinary college in your area. These colleges are always in need of new patients, so they often provide discounts. If you're hurting financially, try reaching out to foundations like the American Animal Hospital Association's Helping Pets Fund (www.aahahelpingpets.org) or breed-specific rescue groups; these organizations may provide veterinary care for pet-owning families in need.
All You: Pick a great family dog
Skip the groomer
It may be essential to take your dog or cat to the groomer occasionally, especially if its fur is long or curly. However, you can space out the time between visits by asking for a lesson from your vet or groomer. Have them teach you how to cut your pet's nails and explain the proper way to bathe and brush their fur. You can even use these newfound skills for other pets -- swap services with neighbors. For example, give your neighbor's dog a bath if they watch your cat while you go on vacation. You won't have to pay a pet sitter!
Spend less on accessories
There's no need to buy pricey items for your dog or cat. Instead, hit the dollar store for supplies like discounted pet toys and cat litter. Also, check out Web sites like Craigslist or Freecycle to swap pet equipment, such as a crate or a scratching post. You'll save a lot and your pet will be just as happy. (Be sure to clean traded items: Sanitize rubber and rope toys by running them through the dishwasher cycle without detergent. Throw plush toys and dog beds in the washing machine and clean out the floors of crates.)
All You: Make your own pet toys
Buy pet food in bulk
A big money waster: purchasing small bags of food for your cat or dog. Get the largest size possible, then split the food (and cost) with pet-owning neighbors, friends or family members. As for brands, expensive price tags don't always add up to higher-quality food. Ask your vet to recommend food you can buy at the grocery store or at wholesale stores like Costco.
Get the lowest prescription prices
Before you head to the vet to pick up your pet's medications, do some online research and see if you can find them for a lower cost. Check out sites like 1800PetMeds.com and print out the prices you find. Then ask your vet to match the price -- chances are, he or she will gladly do it. Getting the prescriptions from your vet is a safer choice, as they closely monitor elements like expiration dates. Plus, there are no shipping costs!
Spring for pet insurance
If your cat or dog needs emergency medical care, you'll most likely be hit with a major bill. By spending a small amount on pet insurance each month, you'll avoid "economic euthanasia" -- having to put your pet down in lieu of an expensive surgery or treatment. The threshold of what you can spend on your pet's care skyrockets with insurance, so in an emergency you may not only save money but also your pet's life. To see if you need insurance, check out our article on finding out if pet insurance is right for you.
Keep your pet healthy
The best money-saver out there is prevention. If your pet maintains an ideal weight, is fed high-quality food and has regular checkups, you'll avoid expensive medications and treatments. Plus, feeding and exercising your pet well will keep it happy, and who doesn't want that?
Source: Dr. Marty Becker, veterinarian in Twin Falls, Idaho, and coauthor of the syndicated newspaper column "Pet Connection"
Get a FREE TRIAL issue of Real Simple - CLICK HERE!
Copyright © 2011 Time Inc. All rights reserved.