STORY HIGHLIGHTS
Efren Peñaflorida named the 2009 CNN Hero of the Year at Hollywood gala
Gala included appearances by actress Nicole Kidman, Grammy-winning artist Carrie Underwood
Third-annual event was taped before an audience of 3,000 at the Kodak Theatre
(CNN) -- Efren Peñaflorida, who started a "pushcart classroom" in the Philippines to bring education to poor children as an alternative to gang membership, has been named the 2009 CNN Hero of the Year.
CNN's Anderson Cooper revealed Peñaflorida's selection at the conclusion of the third-annual "CNN Heroes: An All-Star Tribute" at the Kodak Theatre in Hollywood.
The gala event, taped before an audience of 3,000, premiered on Thanksgiving night on the global networks of CNN.
The broadcast honored the top 10 CNN Heroes of 2009 and featured performances by Grammy Award-winning artist Carrie Underwood, R&B crooner Maxwell and British pop sensation Leona Lewis.
Peñaflorida, who will receive $100,000 to continue his work with the Dynamic Teen Company, was selected after seven weeks of online voting at CNN.com. More than 2.75 million votes were cast.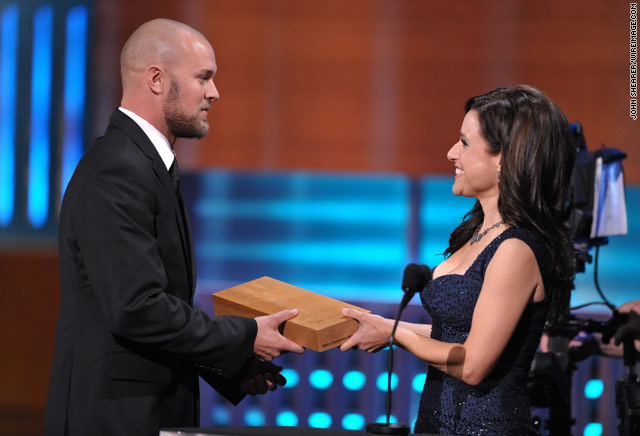 Gallery: CNN Heroes: An All-Star Tribute

Video: CNN Hero of the Year named

Video: CNN's Hero of the Year

Video: CNN Hero: Win unexpected
"Our planet is filled with heroes, young and old, rich and poor, man, woman of different colors, shapes and sizes. We are one great tapestry," Peñaflorida said upon accepting the honor. "Each person has a hidden hero within, you just have to look inside you and search it in your heart, and be the hero to the next one in need.
"So to each and every person inside this theater and for those who are watching at home, the hero in you is waiting to be unleashed. Serve, serve well, serve others above yourself and be happy to serve. As I always tell to my co-volunteers ... you are the change that you dream, as I am the change that I dream, and collectively we are the change that this world needs to be."
The top 10 CNN Heroes, chosen by a blue-ribbon panel from an initial pool of more than 9,000 viewer nominations, were each honored with a documentary tribute and introduced by a celebrity presenter. Each of the top 10 Heroes receives $25,000.
Wallis Annenberg, chairman of the board, president and CEO of the Annenberg Foundation and a member of the Blue Ribbon Panel that selected the top 10 CNN Heroes of 2009, also pledged $10,000 to each of the top 10 Heroes' nonprofit organizations.
"With the recognition they receive on our stage," said Cooper, who hosted the tribute, "they'll be able to help thousands and thousands of people. Through their efforts, lives will be changed and lives will be saved."
Underwood performed an original orchestral arrangement of "Change" from her best-selling album, "Play On."
Maxwell sang "Help Somebody" from his first album in eight years, 'BLACKsummers'night.'
Lewis, a three-time Grammy nominee, performed "Happy," from her second album, "Echo."
See photos of all the performers and honorees
All three performances echoed the spirit of the CNN Heroes campaign, which salutes everyday people whose extraordinary accomplishments are making a difference in their communities and beyond.
Presenters included Nicole Kidman, Kate Hudson, Neil Patrick Harris, Pierce Brosnan, Dwayne Johnson, Eva Mendes, Randy Jackson, Greg Kinnear, George Lopez and Julia Louis-Dreyfus.
"This record number of nominations is further evidence of the momentum CNN Heroes has built in just a few short years," said Jim Walton, president of CNN Worldwide.
"Viewers have been engaged by these stories of inspiration and accomplishment beyond our expectations. It is truly an honor to be able to introduce the CNN Heroes to our global audience every year."
Again this year, producer/director Joel Gallen served as executive producer of "CNN Heroes: An All-Star Tribute." Among his credits, Gallen produced telethon events supporting victims of the September 11 terrorist attacks and Hurricane Katrina, winning an Emmy Award and a Peabody Award for "America: A Tribute to Heroes."
Each person has a hidden hero within. ... Look inside you and search it in your heart.
--Efren Penaflorida, CNN Hero of the Year
The Kodak Theatre is best known as the first permanent home of the Academy Awards.
Here are the 2009 Top 10 CNN Heroes:
Brad Blauser
Brad Blauser is providing hope and mobility to disabled children and their families in Iraq. Since 2005, his Wheelchairs for Iraqi Kids program has distributed nearly 650 free pediatric wheelchairs to children in need.
Full story | Video

| Extra

| How to help
Roy Foster
Army veteran Roy Foster started Stand Down House to help veterans struggling with addiction and homelessness in Florida. Since 2000, his program has provided life-changing services to nearly 900 veterans.
Full story | Video

| Extra

| How to help
Doc Hendley
Bartender Doc Hendley is providing clean water to communities worldwide. Through creative fundraising, his nonprofit Wine to Water has brought sustainable water systems to 25,000 people in five countries.
Full story | Video

| Extra

| How to help
Andrea Ivory
Breast cancer survivor Andrea Ivory is bringing early detection to the doorsteps of uninsured women. With mobile mammography vans, her group has provided more than 500 free screenings in Miami, Florida.
Full story | Video

| Extra

| How to help
Betty Makoni
Zimbabwe native Betty Makoni founded the Girl Child Network to provide a haven for young victims of sexual abuse. The organization has rescued more than 35,000 girls since 2001.
Full story | Video

| Extra

| How to help
Jorge Munoz
School bus driver Jorge Munoz is helping hungry New Yorkers make it through tough times. Since 2004, he has handed out more than 70,000 meals from his mobile soup kitchen in Queens -- for free.
Full story | Video

| Extra

| How to help
Efren Peñaflorida
Efren Peñaflorida gives Filipino youth an alternative to gang membership through education. His Dynamic Teen Company's 10,000 members have taught basic reading and writing to 1,500 kids living in the slums.
Full story | Video

| Extra

| How to help
Budi Soehardi
Budi Soehardi founded a children's home in one of the poorest areas of Indonesia. Today, Roslin Orphanage in West Timor provides food, shelter and education to more than 45 children.
Full story | Video

| Extra

| How to help
Derrick Tabb
Derrick Tabb started The Roots of Music to give young people an alternative to New Orleans' streets. His music education program provides free tutoring, instruments and music instruction to more than 100 students.
Full story | Video

| Extra

| How to help
Jordan Thomas
Jordan Thomas, 20, of Chattanooga, Tennessee, lost both of his legs in a boating accident in 2005. Since then, his Jordan Thomas Foundation has raised more than $400,000 to provide prosthetics for children in need.
Full story | Video

| Extra

| How to help