By Abigail Bassett
CNN





(CNN) -- Shayna Hefner never expected MySpace to turn her life upside down.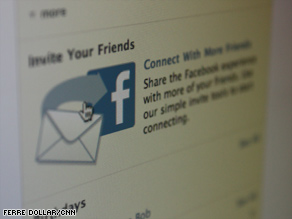 If you're married or in a serious relationship, don't look up old loves, one psychologist says.
When she joined the social network years ago, she wasn't sure what to do with it. One night, she and her cousin started seeking out people from Hefner's past: old friends from high school, old co-workers, even ex-boyfriends.
At the same time, Hefner's life and marriage began to fray at the edges. She had just given birth and recently lost her mother to illness. She began using MySpace's blogging feature to express herself and seek support.
"Suddenly, I was part of a group of people who were all going through the same thing as me. They were moms and wives, and they were doing all these really exciting things, and I had come to realize that I kind of wanted more from my life. The blogging had really drawn people to me. I wrote about the frustration I was having with my husband and my marriage, and so many people wrote back to support me and make me feel better," she said.
About the same time, an old friend from high school, "D" (she's requested that we don't use his name) popped into Hefner's online life and started lavishing attention on her. They eventually began to talk on the phone. He would call her from Texas for advice on how to deal with his divorce and kids.
When D came to California for a vacation with his children, they made plans to see one another.
Eventually, they became romantically involved. Even though Hefner was still married, she became deeply committed to D -- so much that it eventually pushed her husband to go forward with their divorce.
Don't Miss
A few months later, she and D have broken up. But Hefner's divorce moves forward, and she continues to blog about her relationship with D and her husband.
More than one-third (35 percent) of U.S. adult Internet users have a profile on a social networking site, according to the Pew Internet & American Life Project's daily tracking survey of 2,251 adults.
As more people join social networks like MySpace and Facebook, getting back in touch with old friends and lovers is becoming increasingly easy.
A search on both networks turns up a handful of groups dedicated to lost loves and first loves. Although neither site formally tracks the number of groups dedicated to the topic, MySpace spokeswoman Jamie Schumacher says it's common for users to meet on the site and fall in love and end up together.
"Hope Winters" had a different social networking experience .The former lawyer who blogs under the pen name Winters on "Here's the Thing DC" recently had a Facebook encounter with an old crush. The two of them had been in student government together in college and always had an attraction but never did anything about it.
After six months of e-mailing almost daily and sharing her unposted work with him, her college crush removed her as a friend on the social network, blocking her from seeing his profile and cutting off communication for what she says is no apparent reason. She was upset, but she's taking it in stride.
"The thing is, online they can be anything they want. You e-mail a lot and talk about your lives effortlessly, since you already knew them back then, and you really feel a connection. But it's not real," she said.
Many experts argue that it's this aspect of social networking that is dangerous to real-world relationships. People often present whatever image they deem appropriate on the Internet, and it's easy to keep e-mail communications private.
B.J. Fogg, director of the Persuasive Tech Lab at Stanford University and editor of a book called "The Psychology of Facebook," has been studying the social networking phenomenon for years.
He argues that what we are doing on Facebook and other social networking sites is a lot like "primate grooming." We are building "social solidarity" by publicly flirting and socializing online.
"I think you get out of Facebook what you want to get out of Facebook. It's like a Rorschach Test. If you want to go onto Facebook to look for someone else to be with or look for a support system to leave your current relationship, then you will find that," he said.
Many people try to reunite online because it's so easy, says Nancy Kalish, a professor of psychology at Cal State Sacramento and author of the book "Lost & Found Lovers: Facts and Fantasies of Rekindled Romance."
Kalish says most people go looking for lost loves, initially, out of curiosity. First loves in particular are most often sought out online, she says, and they pose the most danger to real-world relationships for two reasons: biological and emotional.
First, she says, when two people meet in the adolescent years (between 16 and 22), they start to form their identity together and break away from family. In those formative years, "you define what love is and what you want from a partner, and when you lose that, you lose that piece of yourself."
This combines with the hormones that are encoding in your brain at that age as "emotive memory" and creates a biological imprint of that person.
On top of all this chemistry, the adolescent years are typically the years when humans start to reach their reproductive maturity and look for biologically compatible mates. Kalish argues that this in turn causes problems because people are delaying marriage. She says, "we are so far away from marrying our first love because people are waiting until later in life to settle down. When they do settle down, oftentimes, the chemistry just isn't the same." iReport.com: How are social networks affecting your personal life?
Her advice to the social networking crowd is simple: "It's not enough to have a good marriage. My rule is, if you are married or in a serious relationship, you are not available. Don't contact your lost love. Understand that these are old feelings and that who your lost love was years ago is not who they are today."
Some spouses agree. In the Pew survey, of the adults who had removed their profile from a social networking site, 3 percent said they did it because their spouse or partner wanted it removed.
Now moving forward on her divorce, Hefner says she doesn't have any regrets about her MySpace experience.
"I didn't even understand how it worked when I started my account. When I actually started meeting people, I realized it was a way for me to grow, and I hoped my husband would grow with me. Many of my friends have a theory, though. We don't think MySpace caused our marriages to fail. Rather, something lacking in those marriages made us look to MySpace in a way we might not have if we were truly happy."
E-mail to a friend

All About Relationships • Dating • Social Software and Tagging