By Lorna Collier
Special to CNN





(LifeWire) -- On her second time around, 51-year-old divorcee Susan Potter decided to try online dating to find her perfect match.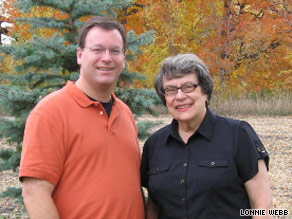 Todd Anderson pointed his widowed mother Eunice to eHarmony where he had found his own wife, Tracy.
But she ran into an unexpected obstacle: her daughter, April, 31, who became furious with her mother for even trying after she launched her Internet search for men last spring.
"Every time I would go online, she'd have a hissy fit, and say I wasn't safe, and yadda yadda," says Potter, a nursing instructor from Buffalo Grove, Illinois.
"There's creepy people out there," says April, a medical coder from Lena, Illinois.
"Online, they are complete strangers, and they can lie to you about anything and everything." Plus, she points out, her mother "hadn't dated in years and years and years."
Susan eventually quit online dating -- after too many miscues with men who, indeed, were not who they portrayed themselves to be -- and joined a singles club.
She thinks that she has now met "probably the love of my life." But April was so upset with her mother's online dating that she refused to meet the boyfriend for eight months.
Dating goes gray
As the baby boom generation ages and once-married boomers become single again, they increasingly are turning to the Web in search of dates.
The number of eHarmony.com users who identify themselves as 45 years or older and divorced has more than doubled in the past eight years, says Gian Gonzaga, senior researcher for the site, which has had 20 million members since it started in 2000. Registered users ages 45-64 jumped 9 percent from 2007-2008, Becky Teraoka, the site's public relations manager said.
And given that many older boomers are parents with grown children, it's perhaps unsurprising that conflicts occur.
"What people worry about most is the well-being of their parents. They're concerned their parents are out of the loop of dating and going to pick someone who is going to treat them badly," says Stacy Kaiser, a Southern California psychotherapist who works with the women on "DietTribe," Lifetimes' reality show about five female friends who try to lose weight and get fit. Kaiser is also a former consultant for the Jewish dating site JDate.com.
Kaiser says she often counsels parents and children on working through issues that arise when a parent begins dating online. One of her clients hacked into his mother's e-mail account and, posing as her, sent rejections to potential suitors.
Another followed her mother to an outdoor Starbucks rendezvous and repeatedly drove past her mother and her date, yelling at her. The mother eventually had to shout back: "Let me live my life!"
"It's like the children try to take on the role of the parent," says Kaiser.
For some children, this new role can mean supporting and encouraging a parent who is dating online, rather than throwing up roadblocks. When Eunice Webb, a 73-year-old widow and retired teacher in New Prague, Minnesota, grew lonely and contemplated buying a dog for company, her son, Todd Anderson, suggested she get a man instead.
Anderson, a 40-year-old teacher in nearby Northfield, Minnesota, then persuaded his mother to try eHarmony, going so far as to help her set up her profile and read the e-mail responses she received.
"I didn't know the difference between a Web page and an e-mail. I didn't have the guts to put myself out there ... but he put me on," Webb says.
A month later, Eunice met Lonnie Webb. They married in 2006.
Anderson had reason to believe in eHarmony, having used the service to find his wife, Tracy, whom he married in 2005. "When it came to my mother, I had absolutely no reservation. My mom's a pretty cautious person," he says.
Keep details to yourself
Still, says Kaiser, for many grown children, having a parent suddenly jump into the dating pool -- and a virtual one at that -- is a shock, especially if the parent begins dating numerous people, and perhaps having sex with new partners.
"When it comes to the sex thing, I tell parents, 'Your adult child might not want to hear all the details,'" says Kaiser. "They may not even want to hear that you kissed.' People are uncomfortable imagining their 60-year-old mother making out in the back of a car."
Kaiser does recommend parents and children in this situation keep lines of communication open, but children need to realize that "their parents have a life; their parents are grown up."
Meanwhile, parents need to recognize their child's concerns. If a new boyfriend or girlfriend is now in the picture, says Kaiser, it's important for the child to spend time with that person, "to develop their own relationship." She recommends activities that both can enjoy, such as attending a sporting event together.
PerfectMatch.com founder and CEO Duane Dahl, 46, put his enterprise to the ultimate test when he helped his own mother, who is in her late 60s, enroll in his service.
"I think by spending time with our parents and helping them, we put them in a position where ultimately they can use the Internet to pursue friendship, companionship and even romance," says Dahl. "This is a great opportunity for us to help our parents and educate them."
But there is a limit. Dahl admits he didn't advise his mother on what to post. "I didn't want to be too involved."
Instead, he reviewed some practical online tips with his mother and then directed her to his site's services which provides advice and insight to all members on optimizing their photos and profile content.
And she must have taken his advice to take her time because he says, "her search for romance -- and male companionship continues!"
E-mail to a friend

LifeWire provides original and syndicated content to Web publishers. Lorna Collier is a freelance writer who writes about technology, parenting and other subjects for national magazines, Web sites and newspapers.
All About Dating