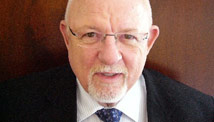 STORY HIGHLIGHTS
November 11 was called Armistice Day to mark the end of World War I
Ed Rollins says, after other wars, the day was renamed Veterans Day
He says Fort Hood, a place of safety, became a killing field for heroes
Rollins: Obama used his skill as an orator to become "healer in chief"
Editor's note: Ed Rollins, a senior political contributor for CNN, is senior presidential fellow at the Kalikow Center for the Study of the American Presidency at Hofstra University. He was White House political director for President Reagan and chairman of the National Republican Congressional Committee.
NEW YORK (CNN) -- In November 1919, President Wilson proclaimed the 11th day of the month as the first commemoration of Armistice Day.
It was the first anniversary of the end of the "Great War" and it was hoped we would never go into battle again. Unfortunately that is not how history turned out. The "Great War" became known as World War I. Many conflicts followed. Many more Americans went to war and many gave up their lives.
November 11 was renamed to honor our veterans in 1954 by one of America's greatest military leaders, 34th President Dwight David Eisenhower.
How strange that on the very eve of this day, President Obama was addressing a memorial service for the slain soldiers of last week's massacre at Fort Hood before the thousands of men and women who served with them on the Army's largest military base.
The president is the commander in chief and the task of sending young men and women into combat is the most serious duty he bears. As he ponders the decision to send more troops to Afghanistan, he saw the men and women of our Army up close. These are the soldiers who will be part of whatever decision he makes. And they are fabulous soldiers ready for whatever duty he requests of them.
No part of a president's job can be more difficult than what he had to do Tuesday in honoring the slain and wounded of Fort Hood. The commander in chief became the "healer in chief" and he did it with grace and style and set exactly the right tone.
The president used his extraordinary communication skill to remind us that the victims were ordinary Americans who had made an extraordinary commitment to their country. He said, "These are trying times for our country. In Afghanistan and Pakistan, the same extremists who killed nearly 3,000 Americans continue to endanger America, our allies and innocent Afghans and Pakistanis.
"As we face these challenges, the stories of those at Fort Hood reaffirm the core values that we are fighting for."
Like all the other casualties of war, they will not be forgotten and they will be mourned. They were heroes who died in the most unforeseen way in the most unforeseen place.
Several had survived combat and the 13 victims had already served their country for nearly a century of combined service. But they had volunteered to serve in the Army and knew that their duty would put them in harm's way. That is far more than most of us ever do -- or are willing to do.
The victims, I am sure, never realized they would be in harm's way behind the walls of Fort Hood. And they certainly shouldn't have been. They were shot and killed because they wore the uniform of the U.S. Army. They were allegedly slain by someone who also wore that uniform. That's what we will never be able to understand.
This was the act of a terrorist, whether or not the accused shooter had ties to established terrorist groups. Maj. Nidal Malik Hasan is accused of killing 13 of his fellow soldiers, men and women, young and old, and of trying to kill many others. His alleged crime was unthinkable and cannot be rationalized.
"They were heroes who died in the most unforeseen way."
--Ed Rollins
How could a man educated by his country to be first a soldier, then a medical doctor and then trained to handle the terrible mental psychosis of war-damaged soldiers, inflict the carnage of which he is accused?
The damage was not just to the victims and their families but also to the United States military at large. Whether the accused shooter acted alone or in coordination with others, it was a blow against his fellow soldiers and a blow against his country. It was also a blow to Muslims, especially those who serve in the military and face unfair prejudice.
Every day men and women serving this country in two foreign wars are wounded and killed. That is the risk they undertake when wearing the United State's military uniform -- and we must remember they are all volunteers. But this was not a war zone.
Fort Hood is the Army's largest installation. It is a place where troops are trained, sent to war and to which they return to recuperate and heal. It is where their families live and wait while our soldiers are dispatched to foreign lands. But most of all, it is thought of as a place of safety for the soldiers and for their families. Will any soldier ever feel totally safe there -- or anyplace -- again?
As we watched as a nation Tuesday, we saw many of our troops and their families honoring and mourning their fellow soldiers. Most Americans don't see many soldiers or sailors up close. Tuesday helped us remember they are a part of us. Fathers, mothers, brothers and sisters, black, white, Hispanic Christian, Jew, Buddhist , Muslim and atheist, but all Americans .
We saw them at the memorial service with their spouses, with their children and their comrades in arms. Our military is brave, overworked and underpaid.
The president's words Tuesday summed up all of our feelings:
"Their life's work is our security, and the freedom that we too often take for granted. Every evening that the sun sets on a tranquil town; every dawn that a flag is unfurled; every moment that an American enjoys life, liberty and the pursuit of happiness -- that is their legacy."
My late father was a veteran of World War II and my brother a veteran of the first Iraq war and Somalia. To them and to the millions who have served us in protecting our freedoms and way of life: Thank you.
The opinions expressed in this commentary are solely those of Ed Rollins.