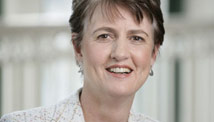 STORY HIGHLIGHTS
Frances Beinecke: When Obama visits China, stakes very high for action on global warming
U.S., China together make nearly half of the carbon pollutants that warm planet
Conditions ripe for both nations to be clean-tech leaders, she writes
Obama must emphasize what U.S. needs to do and support China's efforts, Beinecke says
Editor's note: Frances Beinecke is the president of the nonprofit Natural Resources Defense Council, which focuses on curbing global warming, developing a clean energy future, reviving the world's oceans, saving endangered wild places, stemming the tide of toxic chemicals and accelerating the greening of China. She is the author of "Clean Energy Common Sense: An American Call to Action on Global Climate Change." She recently received the Rachel Carson Award from the National Audubon Society.
(CNN) -- When President Obama visits China next week, global climate change will top the agenda. The stakes could hardly be higher -- for the two Pacific powers and for the world.
Obama and Chinese President Hu Jintao have a chance to make a good-faith start at the kind of cooperation the rest of the world might rally around at the global climate summit next month in Copenhagen.
In September, I visited China, where my organization, the Natural Resources Defense Council, has been active for nearly 15 years. I was able to see firsthand the efforts the Chinese were undertaking to harness their clean-energy potential.
I toured the green Olympic Village in Beijing, attended a clean tech conference in Shanghai and met with China's top climate negotiator, Minister Xie Zhenhua.
We discussed the measures China is taking to lower its carbon emissions as well as the renewed interest in the United States in a clean-energy economy. It was a very pointed discussion about our two countries and the roles we have to play on an international stage.
After all, the United States and China together account for nearly half of the carbon pollutants that are warming our planet. No two countries anywhere can do more to turn back this widening scourge.
And at the same time, no two countries have more to gain from climate solutions: the clean-energy revolution waiting to be unleashed globally. Our economies, populations and infrastructure make the U.S. and China the two prime countries to be clean-tech leaders, if we choose.
And here's the interesting part -- if we work together. This isn't a competition. This is an opportunity where we can all win.
We can strengthen our economies, make our countries more secure and create a healthier future for everyone. Here are four things Obama can do to help kick-start joint leadership.
First, he can speak forcefully and candidly about what we must do at home. The Senate is considering clean-energy and climate legislation that would put Americans back to work, reduce our reliance on foreign oil and cut carbon emissions. It'll be easier to get the attention of others when we lead by example.
Second, he can use this visit to spotlight efforts China is making, or has pledged to make, to hold down the growth of carbon emissions, promote efficiency and invest in the development of solar, wind and other renewable energy sources.
Hu has pledged to reduce carbon intensity, or the amount of carbon emitted per unit of economic output.
Slashing carbon intensity can also help foster emerging carbon-reduction technologies.
China has set ambitious goals for the use of renewable and clean tech. In fact, its market for the materials and equipment required to accomplish that could soon reach between $500 billion and $1 trillion a year, according to the China Greentech Initiative.
And that leads to Obama's third opportunity: to enhance the two countries' cooperation on developing the green technologies of the future.
China wants help with U.S. technology, finance and markets; U.S. companies want access to China's burgeoning market for renewable energy, and clean and efficient technologies.
U.S. companies are well-positioned to play a role in this market, but their dominance is anything but assured. European companies are competing, as are the Chinese, who threaten to overtake U.S. development in solar, wind and other key technologies.
Where China lags badly is in its ability to measure, verify and enforce its carbon reduction goals across a country of 1.3 billion people. That's the fourth way Obama can make a difference here.
The U.S. government is helping China get a handle on emissions levels and shore up spotty enforcement. Much more is needed, and Obama could help by putting additional horsepower into U.S. efforts to help China institute meaningful enforcement practices. After all, if the partnership is going to work, we all need to be playing by the same rules.
Like many a Western visitor, I came home from my trip with my eyes opened to the enormity of the challenges, and the immensity of the opportunities, centered around a fast-changing China.
More than anything, though, I left understanding that China has a long way to go toward creating a clean and sustainable energy future, but it seems to be in a hurry to get there.
There's no reason for the United States to be left behind, especially when I know how much American workers, investors, entrepreneurs and engineers can help move China forward in a way that benefits us all.
The opinions expressed in this commentary are solely those of Frances Beinecke.