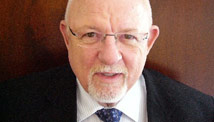 STORY HIGHLIGHTS
Lou Dobbs was one of Ted Turner's hires when he started CNN in 1980
Ed Rollins says Dobbs evolved into an advocacy journalist
Big personalities with strong views can attract many viewers, Rollins says
He says CNN is sticking with Turner's original focus on news without a bias
Editor's note: Ed Rollins, a senior political contributor for CNN, is senior presidential fellow at the Kalikow Center for the Study of the American Presidency at Hofstra University. He was White House political director for President Reagan and chairman of the National Republican Congressional Committee.
New York (CNN) -- In this past week of very important news -- when the president presided over the memorial service for the slain soldiers of Fort Hood and departed on his first Asia trip, and the attorney general made the controversial decision to treat the mastermind terrorist of 9/11 as a criminal to be tried in a Manhattan civilian courtroom -- the story of the departure of longtime CNN anchor Lou Dobbs still jumped out.
CNN did its usual first-rate job of covering those other stories, but the Dobbs departure is still somewhat of a mystery. It is a hard story to cover, because Lou is family. And it's far more than a story about changing anchors. It's a story about the direction of the "news business" and cable television's role in that business.
Lou Dobbs is the last of the original news anchors hired by Ted Turner; he started with CNN in 1980. Over the past 30 years, he has been one of the stars and certainly one of the biggest names in the cable news business. As was obvious to anyone who watched or knew Lou personally, he was a big personality who edited and ran his own show.
He evolved over that period from a mainstream Republican who was an expert on the business world to an independent who represented the anger and plight of the working class. His resignation Wednesday caught nearly everybody by surprise, including his staff and certainly his viewers.
For the past several years, I have been a regular commentator on his show and have enjoyed his company socially. He is smart, knowledgeable, a man of integrity and most certainly a man of strong opinions. He believes deeply in the values of this country and has no casual thoughts. And he believed in expressing those opinions on air nightly, no matter what controversy they may have stirred. And in many cases, they did stir controversy.
He made it very clear Monday night, on Bill O'Reilly's show on Fox News, that he and CNN management differed only on the question of advocacy journalism, and the parting was amicable.
Lou believes in taking a point of view and fighting for it. CNN management and many of the other CNN anchors differ on that philosophy. They believe in presenting the news fully and letting you, the viewer, decide on your own positions.
Jonathan Klein, president of CNN/USA, is a veteran, and respected, television executive with a long and varied career in television news.
Klein adheres to the principles of CNN founder Ted Turner while trying to adjust to the changing times of the news game. Jon is a man of principle who believes that television news should be straightforward and that the anchors should report it accurately and without bias.
Other commentators such as myself can offer biased opinions and argue the Republican/conservative point of view or the Democratic/liberal point of view or any other point of view that is expressed daily on the network.
Klein runs his network not as another entertainment entity but as a real news organization. "The most trusted name in news" is not just a slogan but a title to be earned every day in the John Klein CNN world.
This was the goal set by Turner. "Somebody's got to be the most respected name in television news, and I wanted that position for CNN," he said at the 25th anniversary of the Cable News Network in June 2005.
"I wanted to be the New York Times of the airways -- not the New York Post but the New York Times -- and that's what we set out to do, and we did it."
It wasn't always so. There were many who doubted Turner's vision, and before Turner and his team built this network into an international powerhouse that can be seen in more than 93 million U.S. households, with viewers in more than 212 countries and territories, there were rough times and fortunes lost.
I remember CNN in its infancy, when the big three networks didn't want the 6-month-old network accredited by the White House in 1981, arguing that it wasn't a legitimate news organization. Many in the hierarchy of the White House felt the same way, especially since Turner was viewed as a close friend of the just-defeated Jimmy Carter.
But once CNN got its accreditation, it became a vital part of American and White House life. You couldn't walk by any office in the West Wing and not see CNN on the screen as the channel of choice. The "Big 3 Network evening news" was still must-see television, but CNN was a closely watched news entity.
Just as America became accustomed to 24-hour news, the rest of the world became connected by CNN. From the shuttle Challenger disaster to the Gulf War (covered almost exclusively by CNN) and so many other news events up to the incredible award-winning coverage of last year's election, CNN was the out-front leader.
In this vastly changing world, all news organizations including Ted Turner's role model, The New York Times, have found that the business has changed dramatically -- and some readers and viewers are going elsewhere. Since CNN's debut in June 1980, more than 70 television networks have launched 24-hour news coverage worldwide.
The Internet -- with sites like CNN.com and all the other vehicles of communication, including other cable networks -- is attracting viewers and readers. And many of those viewers are attracted to big personalities who practice advocacy journalism.
Lou Dobbs practiced advocacy journalism, and in the things he believed in, he was effective. But his critics charged that he was also polarizing and a distraction from mainstream journalism. Lou wanted to do other things, and we all wish him well. Now, under Klein's leadership, the Turner/Klein principles will be adhered to.
"We put our focus from the very beginning on national and international news," Turner said in that anniversary speech. "That really wasn't available from [the other networks] because they were too busy covering the trivia."
That continuing philosophy was represented by Klein, who said last week,"We believe in the mission of presenting nonpartisan news and doing it with verve and passion and a lot of inside information."
The opinions expressed in this commentary are solely those of Ed Rollins.