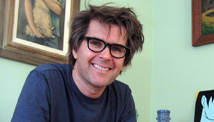 STORY HIGHLIGHTS
Mark Frauenfelder says we share part of ourselves when we give gifts we've created
In economic downturn, many can't afford mass-produced gifts anyway, he says
He asks: Why do we give up making gifts when we become adults?
Frauenfelder: From crocheted laptop sleeves to cookies, homemade gifts mean more
Editor's note: Mark Frauenfelder is the editor-in-chief of MAKE, a technology project magazine (makezine.com), and the founder of the award-winning blog Boing Boing (boingboing.net). His sixth book, "Made by Hand," will be published in June by Penguin/Portfolio.
Los Angeles, California (CNN) -- Thanks to the Web, buying holiday gifts has become much less of a drag than it used to be. In fact, online shopping has made it possible to avoid setting foot in a shopping mall ever again, for which I'll be forever grateful.
But for all its ease of use, key-stroke gift-giving can't compete with the rewards of making homemade gifts and sharing your creations with loved ones.
There's a Haida Indian saying: "Joy is a well-made object equaled only to the joy of making it." To that I would add, "and to the joy of giving it away." That's because a handmade object embodies the personality of the person who made it.
When you give a homemade gift, you are giving a part of yourself to the recipient. You can't do that with a mass-produced item. And how many of those mass-produced items can we afford anyway, with the nation's unemployment rate at 17.2 percent (if you count the underemployed)?
In a recent holiday poll from the Consumer Reports National Research Center, 32 percent of respondents said they were worse off financially than the previous year, and about half of that group said they'd be spending more time with family and friends (18 percent expect to be paying off credit cards well into the new year -- and they are probably optimistic).
I say: While you're rediscovering the value of family, friends, home and hearth, take it a step further.
My idea of a traditional holiday -- the right way to do it -- goes back to the days when gift-giving meant sharing homemade things: hand-knit sweaters, carved wooden toys, smoked meats and the like. It could be that I'm mistaking episodes of "Little House on the Prairie" for the old days as they actually existed, but the idea of handmade gifts has appeal anyway, even today.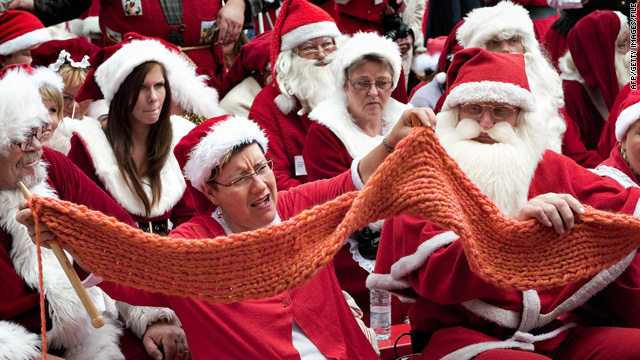 Gallery: Homemade holidays
If you're a parent and are reading this at work, chances are good you have something on your desk or somewhere in your cubicle that your child made. Look at it and reflect on what it means to you. Do you remember how it felt when you gave something homemade to a parent or friend or uncle? Why shouldn't adults give handmade things to each other? Is there any reason why we should stop once we graduate from the sixth grade?
For Christmas this year, I'm giving out homemade jars of sauerkraut (it costs me 50 cents a gallon and takes all of 15 minutes to shred the cabbage, mix in the salt and let it develop in a crock for a week), hand-whittled wooden spoons (these take a few hours each to make, but the therapeutic value of whittling on the porch is inestimable) and a couple of cigar box guitars I made.
The other staffers at Make (and at our sister publication, Craftzine.com) have been busy elves this season as well. Here's a short list of the things they're making:
• Baby pictures mounted in old picture frames purchased at thrift stores for less than a dollar and painted a gold or silver metallic.
• Snow globes made from recycled glass jars and filled with little trinkets like Army men, plastic trees and foxes.
• A miniature remote-controlled submarine, made out of plastic plumbing pipes, with an underwater video camera attached to it to study ocean life in the San Francisco Bay.
• A cat toy that has an electronic circuit that senses when it is being played with and sends a Twitter message to its owner.
• An assortment of slippers, scarves and plush toy squid.
Of course, not everyone is going to be in a position to whip together a cat toy that tweets, but in these few days before the holidays, you can make felt jewelry, gumdrop garlands, a crocheted laptop sleeve or a miniature terrarium in a light bulb (see craftzine.com/projects/ to learn how to makes these and dozens of other projects).
Don't forget, everyone loves homemade food. Cookies, gingerbread houses, pickles, pesto, and sugar and spice almonds are all festive and memorable treats.
Holidays are about giving. If you give someone a store-bought gift, that person will no doubt appreciate your generosity. But if you give a handmade gift, you are also giving your time, your creativity and your uniqueness, which will make your loved one appreciate the gift (and you) that much more.