From Charley Keyes
CNN
(CNN) -- The Gaza crisis is an alarm bell for incoming Secretary of State Hillary Clinton, promising a bumpy ride.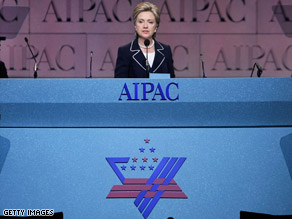 Analysts say incoming Secretary of State Hillary Clinton's support for Israel could create challenges in her new role.
As Clinton prepares to become the top U.S. diplomat, a symbol for U.S. policy around the globe, she inherits from the Bush administration a dangerous and unpredictable world of which the violence in Gaza and southern Israel is just one reminder.
Outgoing Secretary of State Condoleezza Rice is winding down her diplomatic responsibilities and has briefed Clinton and President-elect Barack Obama about what is playing out in the Middle East. Those talks are private and Team Obama is scrupulously sticking to its "only one president at a time" mantra when it comes to international policy.
But the ground keeps shifting and events in and around Gaza will force the new secretary of state to deal with questions about the Mideast sooner than she and her advisers might have hoped.
"We'll have to see what the landscape is like by January 20," said David Makovsky of the Washington Institute for Near East Policy.
Makovsky is co-author of a book coming out later this year, "Myths, Illusions, and Peace: Finding a New Direction in the Middle East."
"There's going to be a desire to think the new administration is better," he said in a telephone interview with CNN. "An administration that prioritizes the Arab-Israeli conflict will be seen as a breath of fresh air."
The weeks before Inauguration Day on January 20 could hold new Mideast surprises. Even if a cease-fire is hammered out by then, it will still be fresh and untested, and anger over the latest violence will be raw.
"It's probable this will be a long-festering crisis," said James Phillips of the Heritage Foundation, where he is senior research fellow for Middle Eastern Affairs.
The new secretary of state will face the same dilemma as the current one.
"I don't think Hamas will change its ways or its policy of terrorism," Phillips said. "The U.S. power to affect the outcome is limited as long as Hamas is determined to continue its policy of confrontation."
The Bush administration treaded lightly on the Mideast for nearly seven years before shifting into high diplomatic gear with the Annapolis peace conference in November 2007. That culminated with pledges from the U.S., Israel and the Palestinian Authority that a final agreement would be reached before President George W. Bush left office.
That optimism faded during 2008, because of what former Mideast peace negotiator Aaron David Miller labels "weak leaders combined with tough issues."
And crises such as Gaza tend to distract from other issues.
Don't Miss
Edward Djerejian, diplomat and director of the Baker Institute at Rice University, says jumping from one crisis to another can distract decision-makers and muddle U.S. policy.
He says Clinton and the Obama team must look at how to resolve crises not just in the Middle East but across the Muslim world.
"What I mean by that is going from crisis management to crisis resolution -- not just putting out fires that erupt all the time in the Middle East, but really making an effort to resolve the Israeli-Palestinian issue, the Israeli-Syrian peace treaty (and) the Israeli-Lebanese peace treaty," Djerejian said in a CNN interview.
Clinton is seen as staunchly pro-Israel.
As the junior U.S. senator from New York, she represents one of the largest Jewish constituencies in the world. She told the American Israel Public Affairs Committee last year that Obama shares her view that the United States will stand by Israel "now and forever."
When she takes over at the State Department, Clinton also must grapple with the perception in the Muslim world that the United States gave Israel a green-light to attack Hamas in Gaza by placing blame on Hamas for rocket attacks on southern Israel.
The Israeli military action has had the unintended consequence of pushing some moderate Arab governments back in the pro-Hamas camp.
Hisham Melhem, prominent Lebanese journalist and correspondent in Washington for Al-Arabiya television, says the "the Israeli rampage" on Gaza has rattled moderate Arab governments that might dislike Hamas and Israel.
"So what you have is an Arab estrangement from Hamas, particularly the Egyptian, Saudi, Jordanian (governments) at the same time they are outraged at the Israeli attack and the high toll in civilian casualties," Melhem said.
The new U.S. administration must consider how the Israeli war against militant group Hezbollah in Lebanon in 2006 ended up strengthening Israel's foes, Melhem said.
"We will probably end up in a way similar to '06, in the sense Hamas will be emboldened and Israeli will be criticized by the international community and it will not solve the problem of Hamas," Melhem said.
The next secretary of state must remember, says Melhem, that as U.S. clout in the region has declined, Iran is standing taller.
"By supporting Israel in an unqualified way, (the U.S. is) emboldening not only Iran but Iran's supporters and friends in the Arab world like Hezbollah and Hamas," Melhem said.
Clinton has personal and political experience in how easy it is to get burned by the complexities of Mideast policy.
In 1999, she almost derailed her bid to become a U.S. senator when she kept quiet as Suha Arafat, wife of late Palestinian leader Yasser Arafat, accused Israel of using poison gas against Palestinians and poisoning the water supply.
Clinton later managed to squelch the controversy by calling the charges "excessive rhetoric."
On the positive side, Rice and Bush launched the latest rounds of talks between the U.S. and the Palestinians, and Israel has been reaching out to other neighbors, including Syria.
When the Gaza file thuds down on her State Department desk following expected Senate approval of her nomination, Clinton will confront many of the same issues that have stymied her predecessors, and then some.
Among her first decisions will be whether to visit the region, something many have urged Rice to do in her final days.
"Going to the region would not substantially advance the chances for peace as long as Hamas continues to be wedded to its terrorism policies," warns Phillips of the Heritage Foundation.
"What is needed is for Western and Middle Eastern countries to put more pressure on Hamas to observe the cease-fire."
E-mail to a friend

All About Hillary Clinton • American Israel Public Affairs Committee • Middle East Conflict • Barack Obama • George W. Bush