From Ted Barrett
CNN Congressional Producer





WASHINGTON (CNN) -- A key senator has dropped her concerns about Leon Panetta becoming director of the Central Intelligence Agency.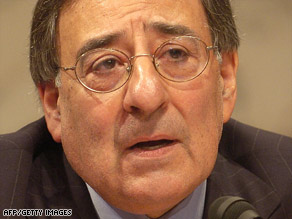 Leon Panetta will tell "truth to power," the incoming Senate intelligence chairwoman says.
Just two days after she criticized President-elect Barack Obama's apparent pick to head the agency because Panetta is not an intelligence professional, incoming Senate Intelligence Committee Chairwoman Dianne Feinstein, D-California, said she will support Panetta because he will "tell truth to power."
In an interview with CNN, Feinstein said she believes Panetta, a former congressman and Clinton White House chief of staff, will "surround himself with very qualified intelligence professionals in the top positions."
She praised Panetta, whom she's known for 20 years, as "smart" and "credible."
"He will, as has been said, tell truth to power. Not what power wants to hear but should hear," Feinstein said. "That's probably the most fundamental part of all of this. That what many of us think happened with the Iraq NIE [National Intelligence Estimate] never happens again."
The NIE is a summary based on reports from the U.S. intelligence community. Before Congress voted in 2002 to authorize war with Iraq, an NIE concluded that the United States had "compelling evidence" that Iraq was restarting efforts to develop a nuclear bomb and had concealed stockpiles of chemical and biological weapons from U.N. inspectors.
That was wrong, but that wasn't established until after a U.S.-led army toppled Iraqi dictator Saddam Hussein's government in April 2003. Critics have said that although the report contained passages raising questions about the weapons conclusions, those dissents were not highlighted.
Don't Miss
Feinstein denied that the short statement she issued Monday, after news of the Obama's pending selection of Panetta was reported by The New York Times, was designed to send a message to the incoming administration that she was angry at not being consulted about the selection.
"That's nonsense," she said.
"Yesterday morning the president-elect called, the vice president-elect called. I had a thorough, thoughtful conversation with both of them. They said sorry, we screwed up. I understand that," she said. "This is his choice, and I understand that. He wants to make a clean cut, open a new chapter. And I support that."
Feinstein's statement on Monday said she had not been told in advance of Panetta's selection, and that her "position has consistently been that I believe the agency is best served by having an intelligence professional in charge at this time."
Two Democratic sources told CNN on Monday that Obama will nominate Panetta for the CIA position.
Although Obama has not officially nominated Panetta, Obama on Tuesday praised his long service in Washington.

"I have the utmost respect for Leon Panetta," Obama told reporters. "[He has] an impeccable record of integrity as chief of staff [under Bill Clinton]."
Panetta, 70, also was director of the Office of Management and Budget during Clinton's presidency. He also was an eight-term congressman from California and, more recently, was part of the Iraq Study Group, whose recommendations led to changes in U.S. policy in the region.

E-mail to a friend

All About Leon Panetta • Dianne Feinstein • Central Intelligence Agency