By Ed Hornick
CNN






WASHINGTON (CNN) -- A fresh, invigorating appeal to voters. That's the challenge Republicans face as they set out to pick a new leader for a party driven into the wilderness after a disappointing 2008 general election.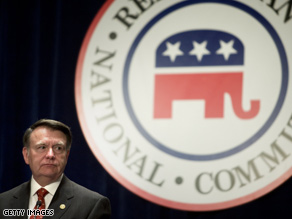 Mike Duncan, the current RNC chairman, is fighting to stay despite GOP election losses.
But which candidate's philosophy will convince the party faithful of a revival? Some say whomever can embrace new approaches employed by Democrats this year will not only win out but will bring the party back to a majority in government.
On Monday, six candidates for the position discussed the future of the party at a televised debate at the National Press Club in Washington hosted by Grover Norquist's group, Americans for Tax Reform.
Those in the running are former Maryland Lt. Gov. Michael Steele, former Ohio Secretary of State Ken Blackwell, Tennessee GOP Chairman Chip Saltsman, current RNC Chairman Mike Duncan, South Carolina GOP Chairman Katon Dawson and Michigan GOP leader Saul Anuzis.
The ultimate winner will be decided by the 168 Republican National Committee members at the annual winter meeting January 20.
But party members have taken an early, unique step of organizing a "special meeting" of the committee Wednesday to press the candidates on how they plan to bring the party back to power. Read what's behind the special meeting
The news comes after a series of closed-door meetings Tuesday between each candidate and members of the RNC's Conservative Steering Committee, who questioned the contenders on their ideological convictions.
But convictions aside, Republicans will need to realize they are going to be in the wilderness for a while, according to Ed Rollins, a longtime GOP strategist.
"The country needs an opposition party, and you're it. Along with the Republican governors, you are going to have to cobble together the concepts and solutions that will attract voters back to our party," he said.
Don't Miss
CNN Political Editor Mark Preston added that the next RNC head will most likely "stick by their ideology and their views."
"Every one of these candidates is conservative," Preston said. "The next RNC chair is going to be the one person who is able to rise above the pack and preach a conservative ideology, at the same time offering a game plan to win back Congress and a majority of the state capitals in 2010 and the White House in 2012."
And that survival includes reaching out to a younger voting bloc.
"Anuzis is trying to position himself as sort of the younger, fresher face who understands technology and what it's like to live in a blue state," GOP strategist David Winston said.
Anuzis, who announced his candidacy for the party chairmanship on the social Web site Twitter, argued Monday that Republicans also must continue articulating conservative principles and that if they cannot "stop being hypocritical ourselves, then we as a party will not be victorious."
All of the candidates posted their profiles Monday on various social networking sites, including Facebook and Twitter.
"It would be suicide for the Republican Party and conservatives to not aggressively embrace technology," said Matt Lewis, a writer for the conservative Web site Townhall.com. "The world is dramatically changing in the way people get their information and the way they communicate; the party needs to change with it."
But Winston said others could offer a fresh approach toward boosting the party back to a majority in government with state-level experience.
"With Michael Steele, you have someone from a blue state who basically is saying, 'I'm from a blue state. I understand what it's like to not be in power' and 'I'm a good communicator,' " he said.
The candidates all agreed Monday that the RNC must expand the party much like the Democratic National Committee did with its 50-state strategy during the 2008 election. That strategy placed staffers in traditionally red states and looked to build the party up from the grass-roots level.
"Katon Dawson is basically saying, 'Look, I had a success story here in South Carolina, and I'd like to take that to the national level,' " Winston said.
Blackwell argued that the RNC needs to abandon the 28-state strategy that has been in place for the last presidential cycles.
"Ken Blackwell is trying to assert the idea that we need stronger state parties and going back to basic Republican principles," Winston added.
Republicans have also faced criticism that the party failed to reach out to growing minority groups, namely Latinos and African-Americans. Both groups voted overwhelmingly for Democratic presidential candidate Barack Obama.
One candidate in particular, Saltsman, was recently under fire for distributing a music CD to committee members that included a song, "Barack the Magic Negro."
Saltsman was a top adviser to former Senate Majority Leader Bill Frist and managed former Arkansas Gov. Mike Huckabee's presidential campaign.

Watch more on the GOP song controversy »
Duncan was the first prominent member of the GOP to criticize Saltsman for sending committee members the song.
"The 2008 election was a wake-up call for Republicans to reach out and bring more people into our party," Duncan said in a statement. "I am shocked and appalled that anyone would think this is appropriate, as it clearly does not move us in the right direction."
Anuzis also questioned Saltsman's judgment, saying, "this isn't funny, and it's in bad taste."

While Duncan chastised the Tennessee chairman, Blackwell -- with Steele, one of two African-American candidates for the job -- defended Saltsman in a weekend statement.
"Unfortunately, there is hypersensitivity in the press regarding matters of race," said Blackwell, who, if elected, will be the first black chairman of the RNC. "I don't think any of the concerns that have been expressed in the media about any of the other candidates for RNC chairman should disqualify them. When looked at in the proper context, these concerns are minimal. All of my competitors for this leadership post are fine people."
E-mail to a friend

CNN political producer Peter Hamby contributed to this report.
All About Republican National Committee • Mike Duncan