By Peter Hamby
CNN





WASHINGTON (CNN) -- The campaign to determine who will lead the Republican party into the era of Barack Obama took a series of unexpected turns Wednesday, beginning with the removal of non-party members from a highly-anticipated "special meeting" of the Republican National Committee.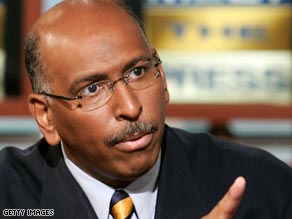 Former Maryland Lt. Gov. Michael Steele is among six vying for Republican National Committee chairman.
After RNC members voted to make their meeting with the six candidates for party chairman closed to those not on the committee, nearly two dozen members of the media were forced to leave.

Inside the first-of-its-kind Capitol Hill meeting, RNC members quizzed candidates on issues from second amendment rights to the role of new technology, according to people in the room.
"We each got a minute to answer questions from the members," said current RNC Chairman Mike Duncan, describing the question topics as "a mix of philosophy and party structure."
The open-and-closed-door meeting was followed by another surprising development: Florida Republican Party chairman Jim Greer,once thought to be considering his own bid for RNC chair, arranged a press conference to throw his support behind former Maryland Lt. Gov. Michael Steele.
In announcing his endorsement, Greer commended Steele's skills as a consensus builder and communicator who understands "conservative values and principles" and the kitchen table issues affecting middle-class Americans. That awareness, Greer said, will help Republicans win elections in his own swing state of Florida.
Steele has been described as a moderate by other members of the committee and the media, as has Greer. But standing by the Florida chairman at the press conference, Steele dismissed the notion he is anything but a rock-ribbed member of the right.
"There are some who regard me as a moderate because I reach across the table and talk to people who disagree with me on issues, but how else do I build my party?," he said.
"I'm proud to say I'm a conservative -- have been, always will be," Steele said. "So this notion that I'm a moderate is slightly overblown and quite frankly a lie."
But Greer is just 1 of 168 committee members who will cast ballots for chairman at the RNC Winter Meeting at the end of January. Perhaps not surprisingly, each candidate says they are confident and that the week's events have helped gain them more support.
"We feel real good," said former Ohio Secretary of State Ken Blackwell.
Katon Dawson, chairman of the South Carolina Republican Party, said he had won over several members of the committee since Monday.
"I think I've had a good week," added former Tennessee GOP chairman Chip Saltsman, who said he will travel to six or seven Western states in the coming days to make his case to other RNC members.
The high-profile campaign reached its apex Monday with the first nationally televised debate for the chairmanship, hosted by anti-tax crusader Grover Norquist.
On Tuesday, in a series of closed-door meetings of the RNC's Conservative Steering Committee, members questioned candidates on their ideological convictions.
But several of the candidates said the private, closed-press nature of Wednesday's session allowed for a productive give-and-take with party members.
"I think members were asking more poignant and open questions and candidates were giving more poignant and open answers, realizing what we're talking about is 'inside baseball,' " said Saul Anuzis, chairman of the Michigan GOP.
Gary Emineth, an RNC member from North Dakota who pushed to organize Wednesday's gathering, said the meeting may have helped several members decide on a candidate.
"I think you'll start seeing a lot of people rolling out here within the next week with who they're endorsing," he said.
Emineth led the charge for Wednesday's full committee meeting in Washington in response to the exclusive gathering of the Conservative Steering Committee. After getting wind of the conservative meeting when it was announced in December, Emineth sent a letter to all RNC members requesting the unprecedented special meeting, which he said would not exclude certain committee members from personally interviewing the candidates.
"I just felt there needed to be a more transparent process not open to manipulation and open to all members," Emineth said.
The RNC consented to the special meeting under party rules, but Emineth said he was disappointed that Duncan, the current chairman, organized the gathering for Wednesday rather than Tuesday, when members in town for the conservative session would be able to participate.
Emineth predicted that only 30 to 40 RNC members would be able to attend Wednesday's session because of conflicting travel plans.
Still, he said the meeting will give members a much-needed first-hand opportunity to hear the candidates' proposals.
Some of the candidates are eager for the face time. During Tuesday's meeting of conservative members, Dawson and Anuzis spent considerable time pitching themselves to RNC members in the lobby of the Washington hotel where the session was held.
Dawson said he looked forward to more "personal one-on-ones with the membership" on Wednesday.
"This is my version of being a lobbyist," he said. "One at a time. These 168 members represent millions of Republicans, and that's what they were sent here to do. They take this very seriously."
E-mail to a friend

All About Republican National Committee • Mike Duncan