WASHINGTON (CNN) -- The U.S. House of Representatives will vote Friday on a resolution "recognizing Israel's right to defend itself against attacks from Gaza," Speaker Nancy Pelosi announced Thursday.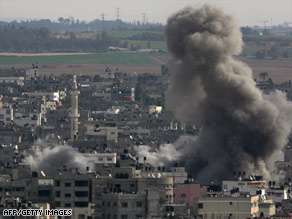 Smoke rises in Gaza City after an Israeli airstrike Thursday.
Introduced by Pelosi and House Minority Leader John Boehner, the nonbinding vote would come on the 14th day of an air and ground assault on the Palestinian territory. Israel says it is aimed at halting the firing of rockets into Israel by Hamas militants.
The resolution's language condemns Hamas, which Israel and the United States consider a terrorist organization, for the rocket attacks and "for deliberately embedding its fighters, leaders and weapons in private homes, schools, mosques, hospitals and otherwise using Palestinian civilians as human shields."
It "expresses vigorous support and unwavering commitment to the welfare, security and survival of the State of Israel as a Jewish and democratic state with secure borders and recognizes its right to act in self-defense to protect its citizens against Hamas' unceasing aggression."
It also encourages the Bush administration to work toward a lasting cease-fire that prevents Hamas from rebuilding.
The administration has backed Israel and blamed Hamas for the conflict, which has reportedly killed 765 Palestinians and, in Israel, nine soldiers and three civilians.
The resolution is expected to pass overwhelmingly.
E-mail to a friend

All About U.S. House of Representatives • Israel • Hamas