By Ed Hornick
CNN






WASHINGTON (CNN) -- Planning to attend the presidential inauguration this month in Washington? Expect a fortress-like city bursting at the seams.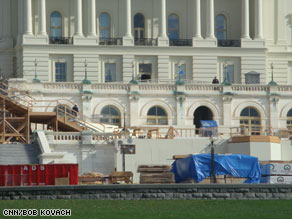 Inauguration preparations at the Capitol began before the Thanksgiving holiday.
An influx of nearly 2 million people is expected to hit the streets of the nation's capital alongside an unprecedented security presence for the swearing in of the nation's first African-American president.
Police will be shutting bridges across the Potomac River into Washington, along with a huge chunk of downtown D.C.
Security officials are investigating any and all potential security threats to Barack Obama.
Homeland Security officials said they have no credible reports indicating that there's any terrorist threat to the inauguration, and there are no adjustments being made to the nation's threat level.
But officials also see the celebration as a potential target because it's highly symbolic and highly visible and will bring hundreds of VIPs -- including foreign leaders -- into the city.
Of particular concern: the possibility of a lone wolf gunman, improvised explosive devices and suicide bombers. The FBI and Homeland Security have issued a threat assessment to law enforcement and other law enforcement officials nationwide.

Watch more on Obama's new fortress-like limo »
Preparations and logistics for the inauguration ramped into high gear shortly after the election. Initially, city officials estimated that nearly 4 million could be expected to attend the inauguration, but they later scaled back that number.
For John Aravosis, who runs AmericaBlog.com and is a D.C. resident, the need for security is tantamount -- but it comes with a price for those trying to witness history.
"The problem here is, I don't mind the need for security. But it's increasingly looking like none of us can attend," he said. "I've got friends talking about renting $250 limos for the day to get them to places."
And then there's the traffic woes that tourists and residents alike will face. Watch more on inauguration plans »
Two of the major routes coming into the city, Interstates 395 and 66, will be closed to inbound traffic, at least for private vehicles.
And for those coming from Virginia, all of the bridges between the state and Washington are going to be shut. In order to get in: walk or take public transport, such as the metro area's subway system.
But as for getting around easily underground? Aravosis said, "good luck."
"I have no idea how I'm going to get there or get home. The Metro?" he said, laughing. "You can't take the metro on the Fourth of July! When we have half a million, you can't take the Metro, and you walk home, and it's not 15 degrees. And it's not 3 miles away." Interactive: Secret Service details traffic, security plans (PDF)
But there is some good news for travelers.
Amtrak says that it has increased the number -- and length -- of trains running to Washington on inauguration day and that tickets are still available but are going fast.
Amtrak can accommodate 5,600 inbound passengers on a normal weekday but will accommodate 8,200 to 8,300 on Inauguration Day, Chief Operating Officer William Crosbie said.
"I don't think in the (37-year) history of Amtrak, we've put on this much capacity," he added.
Security officials also say charter buses, taxis and car services will be another option for those attending.
WTOP radio's Adam Tuss offers sage advice on his blog.
"Note to Self: Take the car keys and hang them on the key rack on Jan. 19. Another Note to Self: Stay at home, if at all possible on Jan. 20," he wrote January 6.
Frank Guerrero said city residents like himself should just stay home and watch Obama's swearing-in on television or the Web.
"Take the day off, stay home, don't deal with the traffic, and all will be fine, and if you're so inclined, walk down to the Mall with the masses and stand there in the cold, where you will probably see nothing," he said.
And it's not just going to be really tough for those who live in the capital area but for those working on Inauguration Day.
One top Senate aide involved in inauguration activities, who spoke on condition of anonymity, said she's going to hunker down in her office and sleep on an air mattress. She said many Congress staffers will also hold Capitol Hill office slumber parties.
"If we're lucky, we'll be able to come home near midnight the next day after they reopen the bridges to Virginia," she said. "It's going to be a long 24-hours, and that's why I'm bringing my [Nintendo] Wii."
And another concern for some tourists and residents: crime.
"D.C. isn't the kind of town that is really safe to walk by yourself at one o'clock in the morning in most neighborhoods. I don't know what people are going to do. ... This place isn't safe past 1 in the morning," Aravosis said.

But he notes that the large local police presence, which will include officers from across the country, will help with overall security.
"I don't know what they do about it, because you have to acknowledge that the Secret Service doesn't do this for fun. They made a legitimate analysis of what they need to do. The additional security concerns are totally valid. I just hope the local streets outside the security zone are heavily patrolled as well."
E-mail to a friend

CNN's Jeanne Meserve and Mike M. Ahlers contributed to this report.
All About Barack Obama • D.C. Metro Area