WASHINGTON (CNN) -- The House of Representatives overwhelmingly passed a resolution Friday "recognizing Israel's right to defend itself against attacks from Gaza," a measure that it said reaffirms the United States' strong support for Israel and the Israeli-Palestinian peace process.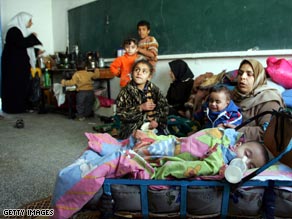 Palestinians take refuge in a United Nations aid shelter in Rafah, southern Gaza.
The bill, which was sponsored by House Speaker Nancy Pelosi, passed by a vote of 390 to 5.
The measure was passed on the 14th day of fighting between Israeli forces and Hamas militants in the Palestinian territory of Gaza. The Israeli military reported earlier Friday that it had attacked more than 70 targets, while more than 30 rockets were fired at the Jewish state.
The bill was also passed amid growing concerns over the humanitarian crisis in Gaza, where more than 1 million Palestinians are without food and clean water, according to senior U.S. officials, citing reports from the World Food Program.
The densely populated Gaza also is facing widespread epidemics because of the dire living conditions and the suspension of vaccination programs December 27, when the conflict began, the officials said, citing reports from the World Health Organization.
About 680,000 Palestinians living in central and southern Gaza are cut off from proper health care, unable to reach the health ministry or Shifa hospital, the territory's main hospital in Gaza City, because of the division of the Gaza strip by Israeli forces.

Read more about Gaza »
The U.N. Relief and Works Agency for Palestine Refugees in the Near East suspended food delivery operations Thursday to 750,000 Palestinian refugees after strikes by Israel killed one of its drivers and wounded a second, "although they had received Israeli clearance," the agency said.
U.N. officials said aid operations would resume as soon as they received "credible assurances" from Israel that aid workers will be well-protected.
The United States is relying entirely on UNRWA for delivery of its aid, Howard Sumka, the top U.S. aid official for the West Bank and Gaza, said Friday.
The United States hopes Israel will help ease a bottleneck that's delaying aid from reaching Palestinians in Gaza, Sumka said Friday.
About $1.6 million in food and $15,000 in medicine have gotten through. Some $3 million more in supplies are waiting in a U.N. warehouse for distribution, he said.
The number of trucks entering Gaza, "is not as high as we would like," Sumka said, but the United States continues to procure supplies in hopes the bottleneck will be eased.
"The scope of the need is quite extensive," he said in a telephone briefing with reporters. "Not very much getting in at all, and that is a problem."
The United States does not have a team on the ground in Gaza and relies on reports of the humanitarian situation from its partner relief agencies. Sumka acknowledged that the U.S. reports reflect grave conditions for Gaza residents.
The United States was hoping for better coordination between Israel and aid workers to prevent aid workers from being fired upon, said Sumka and Elizabeth Hopkins, a director in the State Department's Bureau of Population, Refugees and Migration
Secretary of State Condoleezza Rice had several "tough" phone calls with Israeli Prime Minister Ehud Olmert about the grave humanitarian situation, senior U.S. officials told CNN.

The United States will continue to inform Israel of its humanitarian efforts in Gaza and try to support the efforts of UNRWA and other nongovernmental organizations that are in "a very difficult environment in which to work," Rice said.
The United States may give $15 million more in emergency aid if hostilities continue but would be willing to contribute $40 million to $60 million in aid once the hostilities end and the security situation is more stable.
E-mail to a friend

All About Hamas • Israel • Gaza • United Nations