From Jeanne Meserve
CNN Homeland Security Correspondent






FAIRFAX, Virginia (CNN) -- With all the bridges and road closings on Inaugural Day, the problem isn't just about getting people into Washington but getting them back out after Barack Obama is sworn in January 20.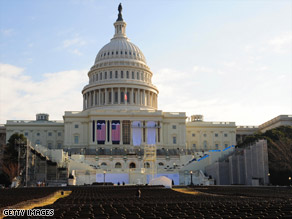 The Capitol seating area is prepped for the presidential inauguration January 20.
That's the big task ahead for local and national officials as they prepare for the massive wave of inaugural-goers.
Officials say there are 20-plus JumboTrons, 5,000 portable toilets and 10,000 National Guard troops at the ready.
But the statistic most people want to know is unknowable: How many people will show up?
At a news conference Tuesday, local officials struggled mightily to achieve an almost impossible balance, encouraging people to participate on the one hand while warning potential participants that the crush could be overwhelming.
At a nerve center in northern Virginia, officials will monitor traffic for the area, and they are bracing for a couple of very difficult days.
An elaborate transportation plan will ban private cars from two major routes into the city and all the bridges from Virginia. For security reasons, a big swath of downtown Washington will be closed to cars, too.
On Tuesday, President Bush declared that an "emergency exists in the District of Columbia" from January 17-21 and ordered that federal aid go to supplement the city's response efforts, according to the White House.
Funds will be used for emergency protective measures related to the inauguration. A White House official said D.C. Mayor Adrian Fenty requested that the emergency be declared January 7, claiming that the large crowds would stress the city's infrastructure.
The city had received $15 million in federal funding for inauguration activities.
Another part of the transportation plan: how to get people out of the city. Interactive: Map of inaugural sites
People should not venture into Washington on Inauguration Day without a travel plan, Maryland Gov. Martin O'Malley said.
"This is not a typical day in our country's history. This is not a typical crowd," O'Malley said. "This is not like throwing the family in the van and heading down for a visit to the Air and Space Museum.
Don't Miss
"If you wish to attend the inauguration, you really do have to have a plan. You need to have a plan for how you get into and out of the District that day. Do your research. Do your preparation beforehand."
Officials have rolled back early estimates of 4 million visitors but say that even half that number will result in traffic jams and disappointed people being turned away from the parade route.
Fenty said it will be impossible for people who are attending the 11:30 a.m. swearing-in to also witness the 2:30 p.m. inaugural parade, even though the events are just blocks away. The parade route is expected to fill up even before the swearing-in starts. Security checkpoints for the parade route open at 7 a.m. Tuesday.
Fenty said the parade route can accommodate 300,000 to 350,000 people. After the route is filled, people will be turned away.
The relief valve will be the huge National Mall, where hundreds of thousands can congregate and witness both the swearing-in and parade on more than 20 JumboTrons.
The U.S. Secret Service, the Department of Homeland Security and local jurisdictions are working on a comprehensive plan to deal with the possibility that people on the Mall may have to be evacuated.
And on Inauguration Day, computers will integrate information from cameras, sensors, traffic and police reports, allowing officials throughout the region to monitor traffic flow in real time.
"If they start to see something turn ugly, they can initiate backup plans, whether that be detours, routing traffic around a particular incident," said Michael Pack of the University of Maryland.
In particular, 3-D modeling, complete with weather effects, will provide an even more detailed picture.

Watch more on what security officials are doing »
"It's almost like having a virtual helicopter that allows you to fly around," Pack added.
A car isn't the only way to get into the city, of course. Washington's mass transit system will increase the capacity of its subway trains and buses. Amtrak will be able to carry 50 percent more people than usual, and the city has set aside parking space for an expected 10,000 charter buses.
But even before Inauguration Day, security officials will face a big headache: securing Obama and Vice President-elect Joe Biden's whistlestop-like train tour from Philadelphia, Pennsylvania, to the nation's capital.
It's a trip full of symbolism, history and risks. Obama and Biden will travel 137 miles on a fixed route with vulnerabilities: Hundreds of bridges could be sabotaged, tall buildings could hide snipers, and plants that manufacture and use dangerous chemicals could be the targets of terrorist attacks.
"When you look at a map of chemical plants on this route, there are over 10 plants that put 100,000 people or more at risk," Richard Hind of Greenpeace said.
The Secret Service is not specific about plans but says it is addressing the chemical issue. Sensors detecting not just chemicals but biological, nuclear and radiological threats will be used, along with other technology officials have been positioning for weeks.
"It would tell you if there is a problem with those tracks, if there has been a sabotage of the tracks, if there are explosives nearby," former Secret Service agent William Pickle said.
The Secret Service also refused to comment on security enhancements to Obama's train. But Amtrak, state and local police will help create a safety envelope around it as it moves south.

There is a long history of presidents taking train trips so people can see and hear them. The Secret Service is confident it can keep Obama and Biden safe.
"Remember, the Secret Service has taken the president to Iraq and Afghanistan, to some very hostile places around the world, and I'm comfortable that we have the skills to protect the president-elect in Pennsylvania and Baltimore and Washington, D.C.," Homeland Security Secretary Michael Chertoff said.
E-mail to a friend

CNN's Ed Hornick contributed to this report.
All About Barack Obama • U.S. Presidential Inauguration