(CNN) -- President-elect Barack Obama on Tuesday tried to persuade Senate Democrats to get behind his plan for the second half of the $700 billion bailout, warning he would veto a threatened disapproval resolution, according to senators who met with him.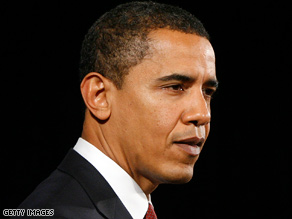 Barack Obama met with Senate Democrats for the last time before next week's inauguration.
Obama on Monday asked President Bush to inform Congress of his intent to use the remaining balance under the Treasury Department's $700 billion Troubled Asset Relief Program, or TARP. Bush sent a request to Congress on behalf of the incoming administration.
Obama met with Senate Democrats on Capitol Hill to make his case for how he wants to spend the funds and to rally support for his economic stimulus plan.
Obama also attended the weekly lunch of Democratic senators in what was his final visit to the Senate before his inauguration next week.
Obama took about 15 questions, many of which were from Democrats skeptical of TARP, senators in the meeting said. Obama repeatedly promised to make the process more transparent, they said.
"I understand that the president-elect wants to move forward ... but I'm not going to be pushed into quick judgment on this, given all the circumstances," said Sen. Ben Nelson, D-Nebraska. "People back home generally didn't want the first go-round and I'm not going to jump out in front of a train on the second one."
Nelson had voted for the first TARP funding.
On Tuesday night, Senate Majority Leader Harry Reid told reporters that while there are problems with the economy, he believes "with transparency, accountability, creating jobs, that the future is good."
Republicans and Democrats have said they were upset by how the Treasury Department spent the first allotment of $350 billion.
Those voicing concerns said they don't feel like there was enough accounting for where the money went. Some Democrats also said homeowners facing foreclosure aren't getting enough help.
Don't Miss
Obama made clear that he doesn't want to issue a veto as one of his first actions in office, but he insisted that he has no choice, the senators said.
Sen. Chris Dodd, chairman of the Banking Committee, reminded fellow Democrats what a bad political situation it would be to pass the disapproval resolution and force Obama use his veto pen on it as one of his very first acts, the senators said.
While some Democrats said they felt more comfortable after meeting with Obama, others said they still have a lot of questions and are unsure how they will vote on TARP.
U.S. Rep. Barney Frank, D-Massachusetts, and his House Financial Services Committee met Tuesday to look at how the TARP money has been spent so far.
A bill by Frank would tighten restrictions on distributing the money and designate part of the funds for foreclosure relief.
Frank said Monday that the remaining funds should be made available "under the appropriate conditions."
"We should not allow our disappointment at the Bush administration's poor handling of the TARP program to prevent the Obama administration from using the funds in more appropriate ways," he said in a statement.
Frank said he hoped the House would pass a bill this week that would lay out the conditions necessary to assure the public gets "full benefit of these funds."
A vote on the House bill is expected as early as Wednesday.
On Tuesday night, House Speaker Nancy Pelosi said the House is making "great progress" and that "we won't leave here without an economic recovery package."
Obama on Monday made his case to Congress for access to $350 billion in remaining federal bailout funds.
In a letter addressed to the leadership of the Senate and House of Representatives, a top Obama economic aide laid out five priorities for the use of the remaining TARP balance. Read how Obama wants to use the money
Meanwhile, confirmation hearings continued Tuesday on Capitol Hill for a number of Obama's Cabinet nominees, most notably Sen. Hillary Clinton, D-New York, Obama's pick for secretary of state.
Clinton was expected to face tough questions, specifically about her husband and his foundation, but she likely will be confirmed.

She told senators that her goals, if confirmed as secretary of state, will include a renewal of American leadership and a revitalization of diplomacy as a means of promoting the nation's security interests and advancing its values.
In addition to testifying before the Senate Foreign Relations Committee, she will submit answers to many of lawmakers' questions in writing, an Obama transition official said.
E-mail to a friend

CNN's Dana Bash, Jessica Yellin, Ed Hornick, Kristi Keck, Bob Costantini, Elise Labott and CNNMoney's Colin Barr contributed to this report.
All About Barack Obama • Barney Frank • Hillary Clinton