WASHINGTON (CNN) -- Three former wartime allies were reunited at the White House for one last time on Tuesday when President George W. Bush awarded America's top civilian honor to the former prime ministers of Britain and Australia.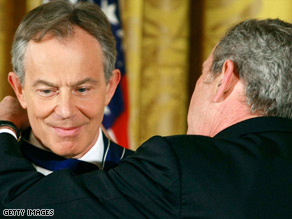 President Bush presents former UK PM Tony Blair with the Medal of Freedom at the White House.
In his last days in office Bush presented Tony Blair and John Howard with the Presidential Medal of Freedom, hailing them as "the sort of guys who look you in the eye, keep their word, and tell the truth." Colombia's President Alvaro Uribe also received the award.
Bush called each of them "a true friend of the United States who met historic challenges with great tenacity and who provides a lasting example of statesmanship at home and abroad."
Blair and Howard were staunch supporters of the U.S.-led coalition in Iraq, sending troops to the country in the face of public opposition to the conflict.
Bush praised Blair's support after the September 11, 2001 attacks and said that under Blair, Great Britain's "might and moral authority" have been well-used in the "war on terror."
"He was there in a moment of trial to affirm the special relationship between the United States and the United Kingdom. And he was there to show America and all nations that he understood the stakes in the war on terror."
He mentioned other accomplishments by Blair, such the Northern Ireland peace process, drawing attention to the suffering in Africa, and serving as the Mideast Quartet envoy.
The awards are controversial, with one UK opposition politician calling them a reward for "the biggest foreign policy disaster in recent history."
Liberal Democrat Shadow Foreign Secretary Edward Davey said: "Tony Blair should be spending next week helping to fix the mess in Gaza, not receiving an award for the biggest foreign policy disaster in recent history and his silence over Guantanamo Bay.
"It is not surprising that this announcement has been left until after Tony Blair has left office and when George Bush is packing his bags. It is simply too controversial to be sold to voters. The political capital built up by Blair's work in Northern Ireland was squandered entirely by the needless war in Iraq."
Bush lauded Howard's plain-speaking style and unpretentiousness and his political tenacity.
"His time in office was marked by great national confidence and prosperity and rising global influence. He won the respect of leaders around the world for his commitment to free markets, cooperation, and the peaceful resolution of differences," Bush said of Howard.
Bush said Howard made remarks in Washington the day before the Sept. 11 attacks in which he "reflected on the many tests that our two countries faced together in the 20th century."
"He spoke with feeling about our shared values as well as our obligation to defend them, and if necessary, fight for them, and be ready to repel those who would seek to take our freedoms away.
Don't Miss
"This man who saw the burning Pentagon on September the 11th and who ... comforted the survivors of Bali, never wavered in his commitment to overcoming this great danger to civilization," said Bush, referring to the 2002 attack on the Indonesian island of Bali.
Uribe has battled guerrillas and drug cartels in Colombia, whose government is a bastion of U.S. support in a region where anti-Americanism is growing.
Bush said that when Uribe was a presidential candidate earlier in the decade, Colombia was threatened with becoming a failed state or a narco-state.
"President Uribe's leadership has been resolute and uncompromising. Today in Colombia, homicides are down 40 percent, kidnappings are down more than 80 percent, terror attacks are down by more than 75 percent. The forces of violence are on the defensive, and the people are reclaiming their country," Bush said, praising Uribe's courage and character.
Previous awards have also been controversial. Bush gave former CIA director George Tenet the medal in 2004 despite him being criticized for intelligence failures and the unproven contention that Iraq had weapons of mass destruction.
As for Howard, he has been staying at the Blair House, the president's guest house for visiting dignitaries where President-elect Barack Obama had hoped to be now.
Presidents-elect traditionally occupy the Blair House five days before moving into the White House. But Obama had been hoping to move into the house earlier to get his daughters settled in school.

The Bush administration already had events scheduled there and had guests who could not be displaced.
The Obamas checked into the historic Hay-Adams hotel in Washington recently. Obama, who is to be inaugurated on January 20, is to move into the Blair House on January 15.
E-mail to a friend