(CNN) -- President-elect Barack Obama on Friday stressed the urgency of a renewable-energy economy as he tried to shore up support for his stimulus package.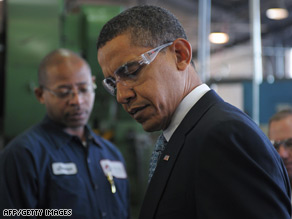 President-elect Barack Obama tours a factory in Bedford Heights, Ohio.
"The story of this company -- which began building wind turbine parts just two years ago, and is now poised to make half its earnings that way -- is that a renewable energy isn't something pie-in-the-sky, it's not part of a far-off future. It's happening all across America right now," Obama said at the Cardinal Fastener & Specialty Co. factory in Bedford Heights, Ohio.
Cardinal Fastener manufactures parts used to make wind turbines. Despite the recession, the company has seen growth, due in part to its focus on the green energy industry.
Creating jobs in the green energy sector is a key part of Obama's plan to jump-start the economy.
"The way I see it, the first job of my administration is to put people back to work and get our economy moving again. That's why I've moved quickly to work with my economic team and leaders of both parties on an 'American Recovery and Reinvestment Plan' that will immediately jump-start job creation and long-term growth," Obama said.
He says the plan will save or create up to 4 million jobs and invest in health care, energy and education, among other priorities.
Obama on Friday said that he was pleased Congress "has seen the urgency as well, and is moving quickly to consider such a plan."
House Democrats on Thursday released a $275 billion economic recovery package.
Obama said he's not looking to create "just any kind of jobs here."
"We're looking to create good jobs that pay well and can't be shipped overseas. Jobs that don't just put people to work in the short term, but position our economy to be on the cutting edge in the long term. That starts with new, clean sources of energy," he said.
Obama has called on Congress to take "dramatic action" on his economic aid package as soon as possible, warning that a failure to do so would have devastating long-term consequences for the nation.

Watch more on Obama's economic challenges »
Obama says the plan will immediately help jump-start the economy by doubling the production of alternative energy within three years, improving the efficiency of federal buildings and homes, computerizing medical records, equipping schools with 21st-century classrooms, expanding broadband across the country, and investing in science and new technologies.
The plan is expected to include tax cuts for businesses and middle-class workers, money to help states dealing with their financial crises and funds to build infrastructure. The earliest the stimulus plan could be signed into law would be mid-February.
Don't Miss
House Speaker Nancy Pelosi said last week that a full vote in the House is slated for the week after the inauguration. If that schedule slips, Pelosi, D-California, pledged to cancel the House's planned weeklong break in mid-February for Presidents Day.
While in Bedford Heights, Obama sat down with CNN's John King for an exclusive interview. The interview will air Friday at 6 p.m. on "The Situation Room," which begins at 4 p.m. ET.
King was expected to ask Obama about issues he will face in the first days of his administration, including the economy and national security.
Later Friday, Obama was expected to travel to Philadelphia, Pennsylvania, where he will spend the night preparing for his Saturday train trip to Washington.
As Obama travels to the nation's capitol for the inauguration, he'll stop along the way to host events in Baltimore, Maryland, and Wilmington, Delaware, home of Vice President-elect Joe Biden.
Meanwhile, the Senate handed Obama a big political victory Thursday by voting to release the second half of the $700 billion bailout package.
The Senate voted 52-42 against a resolution that would have barred Obama from using the roughly $350 billion remaining in the program.
A new poll out Friday suggests that most Americans think the government's financial bailout has not worked so far, and most don't want Washington to spend more money on the rescue. Read more on the poll
Most of those questioned for the poll were surveyed before Thursday's Senate vote.
Obama wants access to the remaining funds to expand lending to consumers and small businesses, but lawmakers from both sides have expressed opposition to releasing the funds from the unpopular rescue plan.
The House is expected to vote next week on what Rep. Barney Frank calls his "trust and verify" bill that would place tighter restrictions on how the Obama administration could spend the remaining bailout funds. His bill also designates part of the funds for home foreclosure relief.
Democrats and Republicans have expressed reservations about releasing the remaining funds, citing displeasure with the way the first half was handled.

As Obama and lawmakers try to balance getting the economy in check while limiting how much they add to the deficit, a group of fiscally conservative Democrats in the House are lobbying Obama to stop the practice of using emergency supplemental bills to pay for the conflicts in Iraq and Afghanistan.
In a letter to the president-elect, the Blue Dog Coalition applauded Obama for his commitment to restoring fiscal responsibility and urged him to include funds to cover the anticipated costs of Iraq and Afghanistan in the budget instead of using emergency supplemental legislation.
E-mail to a friend

CNNMoney's Lenora Chu contributed to this report.
All About Barack Obama • National Economy