WASHINGTON (CNN) -- Former Sen. George Mitchell, the man chosen by President Obama as his special envoy to the Middle East, will bring a wealth of experience and credibility to the job.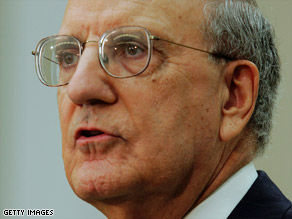 Former Sen. George Mitchell's report on the Middle East became the basis of the "road map" to peace.
The challenges of working in the volatile region would not be new to 75-year-old former Democratic senator from Maine. In 2000, Mitchell served on a commission that examined the escalating violence between Israelis and Palestinians.
In 2001, he wrote a report that that called for a halt to Israeli settlements and greater Palestinian efforts to crack down on terror. The "Mitchell Report" was praised for its impartiality and became the basis of a so-called road map for later peace initiatives.
Mitchell is expected to help negotiate a sustainable cease-fire between Israel and Hamas. Israel invaded Hamas-controlled Gaza earlier this month in what they called an operation to stop rockets from being fired into Israeli territory.

Watch Mitchell's remarks to the State Department »
The two sides announced cease-fires on Sunday after more than 1,200 Palestinians were killed and thousands more injured in three weeks of fighting.
By naming Mitchell as his personal envoy, Obama is sending a diplomatic heavyweight to the region.
"He's neither pro-Israeli nor pro-Palestinian," Martin S. Indyk, a former U.S. ambassador to Israel, told The New York Times. "He's, in a sense, neutral."
Mitchell is probably best known on the world stage for the Good Friday agreement he negotiated between Roman Catholics and Protestants that created a cease-fire in Northern Ireland in 1998.
A year later, he returned to Northern Ireland to negotiate a power-sharing agreement between the warring factions that lead to the creation of a coalition government.
In 1999 Mitchell published a book, "Making Peace," on the negotiations in Northern Ireland.
Mitchell's name returned to the front pages in 2006 when Commissioner of Baseball Bud Selig asked him to investigate the steroid use by Major League Baseball players.
In the report he released in December 2007, Mitchell named 86 players, including seven MVPs and 31 All-Stars. Some of baseball's biggest names -- including pitcher Roger Clemens, Barry Bonds and Miguel Tejada -- were included in the report.
A lifelong baseball fan, Mitchell has often been mentioned as a possible commissioner of baseball.
Mitchell retired from the Senate in 1994 after serving 15 years. He served as Senate majority leader from 1988 until his retirement. He was considered a traditional liberal who, in particular, worked hard on environmental issues.
A former federal judge, Mitchell was considered by President Bill Clinton for an open seat on the Supreme Court, but Mitchell told Clinton he was not interested.
In 2004, Mitchell was elected chairman of the Walt Disney Co. He retired from the board at the end of 2006.
Mitchell was born in the mill town of Waterville, Maine, in 1933.

He was the fourth of five children born to an Irish father and a Lebanese mother.
He graduated from Bowdoin College and Georgetown University Law School. He later served on the staff of Sen. Edmund Muskie.
E-mail to a friend

CNN's Ed Henry contributed to this report.
All About George Mitchell • Middle East Conflict