By Elise Labott
CNN State Department Producer






WASHINGTON (CNN) -- Secretary of State Hillary Clinton has phoned a slew of leaders since taking office on Thursday, reaching out to key allies in the Middle East, Asia and Europe as the Obama administration reviews foreign policies.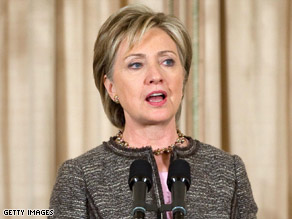 Secretary of State Hillary Clinton announces her new Middle East envoy on Thursday.
Clinton, who was sworn in Wednesday, has spoken with Israeli Prime Minister Ehud Olmert, Foreign Minister Tzipi Livni and Defense Minister Ehud Barak, as well as Palestinian Authority President Mahmoud Abbas, Jordan's King Abdullah and the foreign ministers of Egypt and Saudi Arabia, according to acting State Department spokesman Robert Wood.
The calls were "introductory" and did not delve into the nuances of Middle East policy, despite a simmering crisis in Gaza and Thursday's naming of former Sen. George Mitchell as a special envoy to the Middle East.
President Obama said Mitchell will help implement a cease-fire between Israelis and Hamas and support anti-smuggling efforts to prevent the latter from re-arming.
But he added, "Lasting peace requires more than a long cease-fire, and that's why I will sustain an active commitment to seek two states living side by side in peace and security."
By naming Mitchell as his personal envoy, Obama is sending a diplomatic heavyweight to the region.
"He's neither pro-Israeli nor pro-Palestinian," Martin S. Indyk, a former U.S. ambassador to Israel, told The New York Times. "He's, in a sense, neutral."
Don't Miss
Clinton also spoke with Afghan President Hamid Karzai, Pakistani President Asif Ali Zardari and India's foreign minister, Wood said.

Watch a former secretary of state discuss Clinton »
On Friday, Clinton met with a group of visiting female Afghan legal professionals.
The fourteen judges, prosecutors and defense attorneys were in Washington on a State Department training program on justice reform in Afghanistan.
The State Department issued a statement about the meeting late Friday. It was not on Clinton's public schedule, and Wood did not mention the meeting at his daily press briefing when he discussed the secretary's second day in office.
According to the State Department, Clinton praised the women's "bravery and courage" for bringing reform to Afghanistan and reaffirmed President Obama's commitment to stabilizing Afghanistan.
At her confirmation hearing, Clinton also pledged to focus more attention on women's issues, especially in Afghanistan.
On Thursday, Obama and Clinton named Richard Holbrooke, former U.S. ambassador to the United Nations, as a special representative to Afghanistan and Pakistan. Holbrooke negotiated the 1995 agreement at Dayton, Ohio, that ended the war in Bosnia.
Holbrooke called his latest mission "a very difficult assignment."
"Nobody can say the war in Afghanistan has gone well, and yet, as we speak here today, American men and women and their coalition partners are fighting a very difficult struggle against a ruthless and determined enemy without any scruples at all," he said after his appointment was announced.
Holbrooke said, "If our resources are mobilized and coordinated and pulled together, we can quadruple, quintuple, multiply by tenfold the effectiveness of our efforts there."
Amid an administration review of North Korea, Clinton also spoke to the foreign ministers of Japan, South Korea, China and Australia -- key allies working to disarm Pyongyang, the spokesman said.
She also spoke with the foreign ministers of India, Britain, France, Germany and the Czech Republic, which holds the rotating presidency of the European Union, Wood said.

The administration is also reviewing policy toward Iran, with Obama promising more engagement. Wood said that Undersecretary William Burns would be seeking input from Britain, France, Germany, China and Russia, partners in the so-called "P5 plus one" group dealing with Iran's nuclear program.

Watch Obama discuss the need for greater diplomacy »
Sources said Dennis Ross, a Mideast peace envoy for previous administrations, will be an envoy in charge of engaging Iran, but it is unclear what role he'll play.
E-mail to a friend

All About Hillary Clinton • U.S. Department of State