(CNN) -- President Obama's newly appointed envoy to the Middle East, George Mitchell, is due to arrive in the region on Tuesday to try to shore up a fragile cease-fire between Israel and Gaza's Hamas leadership.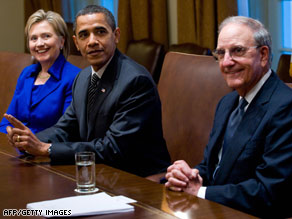 George Mitchell, right, meets with Secretary of State Hillary Clinton and President Obama on Monday.
That truce was breached on Tuesday morning when Palestinian militants set off an explosive device targeting an Israeli army patrol along the Gaza border, killing an Israeli soldier and wounding three others -- one seriously -- according to the Israeli military. The incident happened near the Kissufim crossing on Israel's side of the border, the military said.
As a result, Israel closed its border crossings with Gaza, a Defense Ministry spokesman said.
A short time after the attack, an Israeli military helicopter fired on a target near the Israel-Gaza border fence outside Khan Yunis, killing a Palestinian, a Hamas security source said.
Tuesday's violence is the first violation of the tentative cease-fire between Israel and Hamas-ruled Gaza, which began last week after a three-week military operation by Israeli troops in the Palestinian territory.
Mitchell is expected to arrive in Cairo, Egypt, on Tuesday, the first stop on an eight-day trip which comes just four days after his appointment.
He will also talk with leaders in Israel, the West Bank, Jordan and Saudi Arabia before returning to the United States next Tuesday, according to the State Department.
In an interview with Al-Arabiya satellite television network ahead of Mitchell's trip, Obama said the United States will start by listening, not dictating, to the Israelis and Palestinians. A response will be formulated after consultations with all the major parties involved, he said.
"The moment is ripe for both sides to realize that the path that they are on is one that is not going to result in prosperity and security for their people, and that, instead, it's time to return to the negotiating table," Obama said in the interview, which aired on Monday.
Mitchell, who served as a Mideast envoy for the administration of George W. Bush, wrote a 2001 report that called for a halt to Israeli settlements and greater Palestinian efforts to crack down on terror.
He also was a peace broker on Northern Ireland for President Clinton. When accepting his latest appointment on Thursday, Mitchell said that through those experiences, "I formed the conviction that there is no such thing as a conflict that can't be ended."
"Conflicts are created, conducted and sustained by human beings; they can be ended by human beings," he said.
E-mail to a friend

All About George Mitchell • Israel • Hamas • Barack Obama