By Peter Hamby
CNN Washington Bureau





WASHINGTON (CNN) -- The unpredictable and sometimes acrimonious race to lead the GOP into the post-Bush era will culminate Friday when the Republican National Committee votes to elect its next chairman.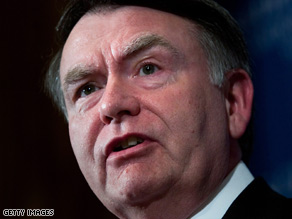 Mike Duncan is seeking re-election as RNC chairman, but he is facing stiff competition within his own party.
Party members, coming together in Washington this week at the RNC's annual Winter Meeting, are under pressure to reach out to young voters and minorities after those constituencies flocked to Barack Obama in November.
There's also a demand from party activists to keep pace technologically with Democrats, who harnessed the Internet to out-organize their opponents in the last two election cycles.
While there has been much buzz about the possibility of an African-American leading the organization, the decision will be made behind closed doors by the 168 members of the RNC, party activists who are considering not just symbolic factors but also the nuts-and-bolts problems facing the party.
With Republicans out of the White House and in the minority in both houses of Congress for the first time since 1994, the new chairman will have an uncommonly powerful role in revitalizing the beleaguered party.
"What counts now, quite frankly, is competence more than change," said Massachusetts committee member Ron Kaufman, who is backing current Chairman Mike Duncan's re-election bid. "People want a chairman who can run the building, raise the money and spend it wisely, and that becomes more important to folks than just change for change's sake."
Duncan has garnered more public endorsements from RNC members than any of his opponents and has run a sophisticated re-election campaign. However, many in the committee are ready for a clean break from the soft-spoken Kentuckian, who managed to raise $400 million during a difficult 2008 cycle.
Duncan, tapped in 2007 to succeed Ken Mehlman, is also associated with George W. Bush and sat atop the party through an election in which Republicans hemorrhaged congressional seats for the second consecutive cycle.
What that change would mean, however, is a complicated matter.
Some party members want the new chairman to change with the times to win back disaffected voters. Others are convinced the party must stress basic conservative principles, such as small government and lower taxes.
Some think the party should elect one of the three current RNC members in the race rather than an outsider. Others feel the new party chair should be an appealing communicator who can go head-to-head with Democrats on TV and radio.
With so many considerations on the table and opinions differing widely among the membership, no candidate has emerged as the true front-runner. As a result, the race has turned sour at times. Each contender has been the victim of e-mail salvos laden with opposition research that have appeared in member inboxes almost daily in recent weeks, sometimes anonymously.
Whoever is elected chairman, that person surely won't please everyone.
"In a perfect world, that person might be a woman, an African-American, might be from New York and not from Mississippi," said RNC member Henry Barbour, a supporter of South Carolina GOP Chairman Katon Dawson. "But this isn't a perfect world. Everybody has some strengths and everybody has, to some degree, some weaknesses."
Among the five candidates seeking to unseat Duncan is Dawson, who has presided over of a string of GOP successes in South Carolina, from the statehouse on up to last year's pivotal Republican presidential primary.
Dawson boosted his prospects earlier in January, but a number of party members say they don't savor the thought of having a white Southerner as the face of the party in the age of Obama. In September, he resigned from a country club with a whites-only restriction in its deed.
Another contender is Michael Steele, the African-American former lieutenant governor of Maryland who is regarded as the best communicator of the bunch. But many conservative committee members accuse Steele of being too moderate to lead the party, pointing to his recent membership in the Republican Leadership Council, a group that sought to marginalize social conservatives.
Saul Anuzis, the goatee-wearing Michigan GOP chairman, has impressed RNC members with his grasp of new technology and social media. Anuzis' Achilles heel is his record in Michigan, where he can point to few gains among Republicans in the battleground state since taking over the state party in 2005.
Ken Blackwell, another African-American candidate, is the former Ohio Secretary of State. He was a late entrant into the RNC race, but made a splash by lining up public support from prominent conservative activists like Phyllis Schlafly and James Dobson. However, many members believe support from RNC insiders is more important than national endorsements.
Also in the race is Chip Saltsman, the former campaign manager for Mike Huckabee who has struggled to gain traction since he sent party members a Christmas CD with a parody song called "Barack the Magic Negro," a move that drew considerable media attention.
A candidate needs a simple majority of 85 votes to win the election, but with six candidates in the running, it's likely that no winner will be determined on the first ballot, and the voting could last several rounds, with a 30-minute break for deal-making and glad-handing in between.
"I think that it's wide open, and I think right now the real question is whether or not Mike Duncan can take it on the first ballot or get past the second," Anuzis told CNN. "If it's real close and if he doesn't, then it's anybody's ballgame."
E-mail to a friend

All About Republican National Committee • Mike Duncan • Michael S. Steele