SPRINGFIELD, Illinois (CNN) -- Workers at the Illinois Capitol building wasted little time Thursday night changing the face of state government, shortly after Gov. Pat Quinn replaced the ousted Rod Blagojevich.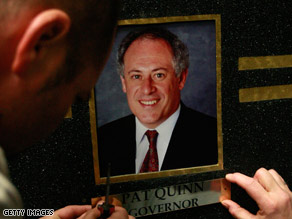 A worker replaces ousted Illinois Gov. Rod Blagojevich's picture with that of Pat Quinn.
The Illinois Senate voted 59-0 on Thursday to remove Blagojevich from office. Moments later, the Illinois Senate voted unanimously to prevent Blagojevich from ever holding political office in the state again.
After the Senate vote, the "welcome" sign with Blagojevich's face, which visitors saw as they entered the Capitol in Springfield, was quickly brought down.
Maintenance crews arrived, first removing the gold nameplate with Blagojevich's name. Using drills and a ladder, they then brought down the 5-foot-high sign to make the official change.
Workers also removed the former governor's official state picture positioned atop a state outline and a silhouette of Abraham Lincoln.

Watch Senate's impeachment vote »
"Was that quick enough?" one worker said to laughter.
An employee standing nearby as the picture was taken away said, "Do we need someone to throw a shoe?"

Watch Blagojevich say he's saddened by Senate decision »
Moments later, the picture of Quinn was placed where Blagojevich's picture used to be.
Blagojevich, who was elected governor twice after terms as a U.S. representative and state lawmaker, was arrested on federal corruption charges in December.

Federal authorities allege, among other things, that Blagojevich was trying to sell the Senate seat that became vacant after Barack Obama was elected president.
During the impeachment trial's closing arguments, Blagojevich appeared before the senators, saying he had done "absolutely nothing wrong."
E-mail to a friend

CNN's Steve Brusk and Greg Morrison contributed to this report.
All About Rod Blagojevich • Illinois