(CNN) -- Katy Brown is an Internet-savvy college freshman with conservative perspectives who worries about the future of the Republican Party.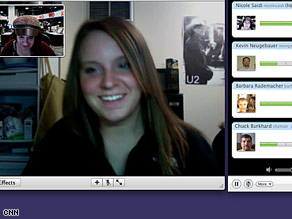 Katy Brown, Kevin Neugebauer, Barbara Rademacher and Chuck Burkhard discuss the future of the GOP.
Brown, a student at Kent State University in Ohio, joined other Republicans and conservative independent iReporters in an online roundtable discussion.
The Republican National Committee selected Michael Steele to become its chairman Friday during its annual winter meeting after the decisive victory of President Obama in November.
Over the next four years, Republicans must regroup and establish a strategy, and the new GOP leader must navigate a political landscape where the Democrats control the White House and both houses of Congress.
"I think we'll come with somebody who has experience, knows what they're talking about, is good with both liberals and conservatives, both Democrats and Republicans," Brown said of a future Republican presidential nominee. iReport.com: Watch Brown respond to one of Obama's Cabinet picks
Kevin Neugebauer of Katy, Texas, a Republican who voted for Sen. John McCain in the election, said during the chat that he thinks the majority of Americans are conservative and that he wants to see the party head in a more conservative direction. iReport.com: 'McCain wasn't conservative enough to win'
Don't Miss
Neugebauer thinks that abiding by conservative principles, especially fiscally, is the only way to solve the country's financial problems.
"I don't want to have to mortgage my kids' future to get us out of the things we're doing today," he said.
Another panel participant, Chuck Burkhard of Windber, Pennsylvania, voted for McCain as a registered Republican but plans to become an independent.

Watch the iReporters talk over a Web chat »
He feels that the Bush administration failed at making government smaller and reducing spending, which he thinks Republicans should make a top priority. He hopes that the party will take a new direction and reach out to more people.
"I really think the Republicans will reach out with a grass-roots campaign," he said.
iReport.com: 'I choose Sen. McCain'
Neugebauer said he thinks the Republican Party needs a "fresh new face" who can set the agenda. He says the government needs to be smaller and thinks politicians waste money on "stuff that the government has no business being in."
The fourth panel participant, Barbara Rademacher, said she had a difficult time making her decision during the 2008 election. She finally settled on McCain but says she is very much an independent voter. Social issues such as abortion are what swung her to the right, but she said the party focused too much on attacks.
"I hate the Republican Party the way it is right now. I hated the way they acted during the election and some of the ideas they came up with as election strategies," she said.
Rademacher said she thinks former Gov. Mike Huckabee, a candidate in the 2008 race, would be a good president because of his experience. She says he has integrity, intelligence and charisma, as well as the ability to manage money. iReport.com: How will Huckabee reform the party?
"I think he may be the only hope for the Republican Party," she said.
Burkhard, Brown and Neugebauer all agreed that Huckabee would be a good presidential candidate. Neugebauer said he also likes former Speaker of the House Newt Gingrich and advocated for a return to strong Republican politics.
"I just think what we need to do is, we need to concentrate on the core values that the Republican Party was started on," he said. "There's too many fence-huggers. They'll say one thing just to get votes, and they actually are thinking the other way. You really need someone in there that can rally the troops and somebody with good morals and a good record."
Paul A. Beck, a political science professor at Ohio State University, said that although Obama is president, there is a large number of conservative people in the country, and they will want their say.
"We have to remember that the 2000 and 2004 elections were very narrow elections," Beck said. "The country was very divided in those elections."
He said he feels that many voters looked at Bush's administration and blamed him for the downfall of the economy and the war in Iraq, creating trouble for the Republican candidates who would attempt to follow him.
"It looks like the Bush administration fumbled the ball. McCain didn't know quite what to do," he said.
Hao Li, a student at the University of Southern California, said he wasn't Bush's biggest fan but thought the former president did "the right thing." Li said he lives the divide in this country every day as a committed Republican and McCain voter in a state that went for Obama.

He describes himself as strongly fiscally conservative and socially moderate. He feels that the GOP needs to make greater efforts to reach out to minorities and young people if party members hope for success. Watch Hao Li ask about reaching out to young people in a 'Digg Dialogg'

"The party has its way of saying, 'Just work hard, and you'll get there,' and they don't really outreach to the minority community. The party shouldn't change its basic principles, but the party should outreach to women and minorities."
E-mail to a friend