From Elise Labott
CNN State Department Producer





WASHINGTON (CNN) -- The Bush administration's lead negotiator on North Korea will now be the Obama administration's top envoy to Iraq, a senior administration official told CNN Monday.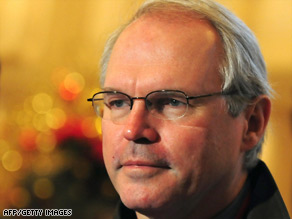 Christopher Hill will be tapped as the next U.S. ambassador to Iraq, a senior administration official says.
Christopher Hill, assistant secretary of state for East Asia, will be named to replace Ryan Crocker, U.S. ambassador to Iraq, when he retires next month, a senior administration official with knowledge of the decision told CNN.
The official spoke on the condition of anonymity so as not to upstage a formal White House announcement.
Hill was widely credited with helping persuade North Korea to agree to abandon its nuclear program in favor of better ties with the West.
During the Clinton administration, Hill was the U.S. ambassador to Macedonia and special envoy to Kosovo. He was also part of the U.S. team that negotiated the Bosnia peace settlement.
He also served as U.S. ambassador to Poland and South Korea during the Bush administration before taking over the North Korea assignment as assistant secretary and lead negotiator to the six-party talks aimed at getting the country to end its nuclear program.
Once confirmed by the Senate as the top U.S. diplomat in Iraq, Hill will oversee an increased diplomatic presence as the U.S. begins to withdraw troops. The new U.S. embassy, which opened in early January, is the largest in the world.
Don't Miss
In Iraq almost two years, Crocker will be leaving the country in two to three weeks, going ahead with his previously announced plan of retiring.
During a recent news conference in Baghdad, Crocker spoke of a "remarkable transition within Iraq itself" during his tenure, citing a drop in violence and political progress, which politicians hope will be reflected by next week's provincial elections.
"Taking a look back at when I arrived here in March 2007 and how it looked and felt then, (there's been) a really remarkable transition within Iraq itself, obviously in security terms, but politically as well," he said. "There are enormous challenges in front of this country, clearly but, when you take a second, catch your breath and take a look back, it really is extraordinary how conditions have changed."
President Barack Obama has called for a responsible and phased 16-month withdrawal of combat troops from Iraq, leaving only a residual force. The U.S.-Iraq security pact signed last year calls for the withdrawal of combat troops from population centers later this year and the removal of all U.S. troops at the end of 2011.
More than 140,000 American troops are serving in Iraq.

E-mail to a friend

All About Christopher Hill • Ryan Crocker • Iraq • North Korea