By Barbara Starr
CNN Pentagon Correspondent





(CNN) -- Defense Secretary Robert Gates will brief President Obama on Monday afternoon about specific plans for adding 15,000 troops to Afghanistan.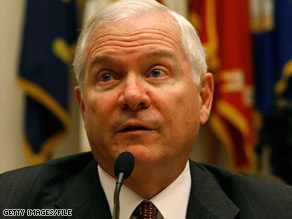 Defense Secretary Robert Gates is meeting with President Obama and Vice President Biden on Monday.
Three U.S. military sources have confirmed to CNN that Gates will present the plan when he meets with Obama and Vice President Joe Biden on Monday.
On Friday, Gates received the military's plans for sending three additional brigades to the war zone, but deferred signing off on the plan until he could brief the new president.
The plan calls for ultimately sending two additional combat brigades -- most likely one Army and one Marine Corps unit -- and a brigade of trainers for Afghan security forces.

Military sources emphasize they do not expect Obama to get involved in the minute details of deployment orders, but said that since this is the first major decision of his presidency about troop deployment, Gates wanted to brief him personally.
Monday's meeting follows a visit to the Pentagon by Obama last week for what was described as an "unvarnished" give-and-take on how to move forward in America's wars in Iraq and Afghanistan.
E-mail to a friend

All About Barack Obama • Afghanistan