WASHINGTON (CNN) -- President Barack Obama on Tuesday admitted he made a mistake in handling the nomination of Tom Daschle as his Health and Human Services secretary, saying Daschle's tax problems sent a message that the politically powerful are treated differently than average people.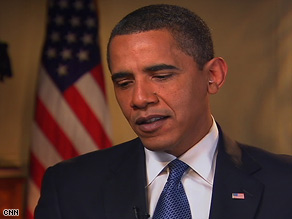 President Barack Obama is interviewed by CNN's Anderson Cooper on Tuesday.
Daschle, the former Democratic leader in the U.S. Senate, withdrew earlier Tuesday as news that he failed to pay some taxes in the past continued to stir opposition on Capitol Hill.
"I think I screwed up," Obama said in an interview with CNN's Anderson Cooper. "And, I take responsibility for it and we're going to make sure we fix it so it doesn't happen again."
Daschle had apologized Monday for what he said were honest mistakes, calling them an embarrassment.
The series of errors included improperly reporting $15,000 in charitable donations, failing to list $80,000 in lobbying income due to what Daschle said was a paperwork error and not reporting a car and driver loaned to him by a friend and business associate as income.

Watch the president say he made a mistake »
Daschle recently filed amended tax returns, and paid more than $140,000 in back taxes and interest for 2005-2007.
Oval Office sit-down
Anderson Cooper and President Obama: one-on-one in the Oval Office. Can he keep his promises to taxpayers?
Tonight, 10 ET on CNN

Those tax issues, as well as questions over whether work he did after his stint in the senate amounted to lobbying, gave critics ammunition to question Obama's call for a culture change in Washington.
"Ultimately, I campaigned on changing Washington and bottom-up politics," Obama said.
"And I don't want to send a message to the American people that there are two sets of standards -- one for powerful people and one for ordinary folks who are working every day and paying their taxes." Read the full transcript
Obama defended Daschle's original appointment, saying "nobody was better equipped to deal both with the substance and policy of health care."

Watch more of the Obama interview: "I'll be judged on the economy" »
"He understands it as well as anybody, but also the politics, which is going to be required to actually get it done," Obama said.

Watch more discussion on economy »
Don't Miss
Earlier, White House spokesman Robert Gibbs insisted Daschle had decided to withdraw on his own, not as a result of any prodding from the administration.
In a written statement, Daschle acknowledged the political problem he had created for the administration.

Still, Obama insisted the mistake was his. Read excerpts from the interview
"I take responsibility for it and we're going to make sure we fix it so it doesn't happen again," he said.
E-mail to a friend

All About Barack Obama • Thomas Daschle