From Ed Hornick
CNN






WASHINGTON (CNN) -- Mayors from across the country descended on the nation's capital Wednesday with a clear message to Washington that their cities were in urgent need of an immediate economic stimulus.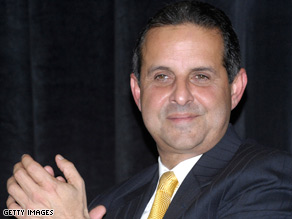 Miami, Florida, Mayor Manny Diaz and other U.S. mayors are meeting Wednesday with congressional leaders.
Miami, Florida, Mayor Manny Diaz, president of the nonpartisan U.S. Conference of Mayors, led the delegation of mayors, whose first meeting of the day was with top White House senior advisers.
Later Wednesday, Diaz and other mayors attended meetings with House Speaker Nancy Pelosi, D-California, and other key congressional leaders.
The U.S. Senate is debating a nearly $900 billion economic stimulus package backed by President Obama and congressional Democrats. Senate Republican leaders are pushing for a bill with more tax cuts and less spending. They also have said they want more emphasis on helping homeowners.
Los Angeles, California, Mayor Antonio Villaraigosa, a Democrat, told reporters that "it's time to stop the bickering and start the tough negotiating to get this bill out to ensure that the American people in our cities get the relief that they need right now."
Akron, Ohio, Mayor Donald Plusquellic, another Democrat, echoed that sentiment.
"It may be fun and games up here for senators to argue details and get down in the weeds, but just as mayors have to do in facing issues firsthand -- when the snow hits we've got to get it off the street," Plusquellic said.
Don't Miss
"The senators need to stop business as usual here in Washington and get to work on a bill that can be presented to get people back to work."
Obama has been urging Congress to act quickly on the stimulus legislation, warning that "if we do not act boldly and swiftly, a bad situation could become dramatically worse."

Watch more on Obama's urgent message »
"This president was elected on hope, and what our people at home are hoping [for is that] our Congress will give them something concrete to work with," said Republican Mayor Rita Mullins of Palatine, Illinois, near Chicago.
Diaz, who is an independent, pointed to massive job cuts as a key issue facing Americans across the country.
"The economic news on Main Street is bad and is getting worse. Every day all of us have seen more and more people unemployed in our cities, more people losing their homes, small businesses that are ... closing their doors," Diaz said. "Our people continue to suffer, and we're here to support the president's call for a stimulus package."
The mayors' trip to Washington comes as a new survey, out Wednesday, shows more than eight in 10 cities are in financial trouble, up from 64 percent from six months ago.
The National League of Cities said the recession is straining cities' ability to meet their financial needs. Around 84 percent of cities reported facing fiscal difficulties, the highest percentage since the group started doing surveys in 1985.
Things likely will remain tough in 2009. Some 92 percent of the cities surveyed expected to have trouble meeting their city needs during this year. To cope, they are implementing hiring freezes and layoffs, delaying capital expenditures and instituting service cuts. Read more about the report
Some 69 percent have instituted hiring freezes or layoffs, while 42 percent are delaying or canceling infrastructure projects, according to the survey. Another 22 percent have instituted across-the-board cuts, it said.
Local and state officials are especially worried this year that if federal funds don't flow to the states, severe cuts to programs such as Medicaid and K-12 education will have to take place.

Watch more on how states are coping with massive budget woes »
"Time is of the essence ... we have to get the money out as quickly as we can," said Republican Vermont Gov. Jim Douglas during a meeting Monday with Obama in the Oval Office. "I think we need to find some common ground. We need to pass a bill that works."
One place where especially tough decisions are taking place is New York, the country's financial hub.
On Friday, Mayor Michael Bloomberg, an independent, said his city may have to cut tens of thousands of jobs --- and increase the sales tax -- to deal with a $4 billion budget shortfall for fiscal year 2009 that begins in July.

New York has faced a tougher time than most cities because the bulk of its economy depends on Wall Street viability. The financial industry was rocked last year by the crisis in the credit industry and home mortgage meltdown, which led to the collapse of major investment houses and the loss of jobs.
In other cities around the country, the cuts in jobs and proposed tax increases weigh heavily on vulnerable small businesses, a vital asset to a municipality's economy.
E-mail to a friend

CNNMoney.com senior writer Tami Luhby contributed to this report.
All About U.S. National Economy • U.S. Congress