WASHINGTON (CNN) -- The Senate wrapped up Thursday night after hours of sometimes acrimonious work without voting on a massive economic recovery plan championed by President Barack Obama.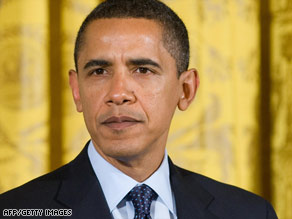 President Obama wants to sign the stimulus bill by Presidents Day.
The Senate had worked its way through dozens of proposed amendments to the plan when Majority Leader Harry Reid -- who earlier had vowed to work "through the night" -- called it quits shortly after 8:30 p.m.
Reid abruptly changed his mind and decided to give a bipartisan group of senators one more day to find compromise on an economic stimulus plan, after consulting by phone with the White House, according to a senior Democratic source.
"I think staying here later tonight would not benefit us," he said.
As official work went on the Senate floor, a group of moderate Democrats and Republicans met for hours going "line-by-line" to trim spending from the plan, which currently will cost just under $900 billion.
Senate Democratic leaders and White House officials admit they are about three votes shy of the 60 votes needed to pass Obama's economic plan, and it would have been too big of a risk to hold the vote and have an embarrassing failure.
Reid has given senators a Friday deadline to forge a bipartisan compromise, but he also warned about a possible weekend vote.
Don't Miss
Sen. Arlen Specter, R-Pennsylvania, told reporters they were making some progress and hoped to find common ground on a bipartisan bill, but multiple senators acknowledged that finding that compromise has proven extremely difficult.
In fact, a Democratic leadership source told CNN that many Democrats not involved in the bipartisan negotiations were very concerned about a working draft that includes proposed cuts in education spending.
Reid said he remains hopeful of crafting a plan that can pass the chamber by Friday.
"Everyone's going to have to give a little and understand this is a process and we have to move this ball down the court," he said. "I'm cautiously optimistic we can do that."
At a House Democrats retreat in Virginia, Obama said he valued "the constructive criticism and healthy debate that's taking place around this package," but added that speedy passage of the bill was essential.
"We're not moving quickly because we're trying to jam something down people's throats," he said. "We're moving quickly because if we don't, the economy's going to keep getting worse."
Obama rejected calls for more tax cuts and significant slashing of the bill's cost, and said complaints the package was a spending bill rather than a stimulus bill were off base.
"What do you think a stimulus bill is?" he said. "That's the point."
The plan, which supporters hope will help turn around a crumbling economy that seemingly spawns more bad news every day, includes tax cuts, money for transportation and infrastructure projects and aid to states to keep workers on their payrolls among its many provisions.
Nebraska Sen. Ben Nelson, a Democrat, and Republican Sen. Susan Collins said they are having a difficult time finding the right balance of cutting some Democrat-backed programs while adding spending on infrastructure, which Republicans want.
"It's been a painstaking, very thorough, very comprehensive process," Collins said.
Republicans have objected to some provisions in the bill that they say have nothing to do with stimulating the economy. iReport.com: Can Obama fix the economy?
Obama held a series of one-on-one meetings in the Oval Office on Wednesday with key senators who were still on the fence.
Collins, of Maine, said she went through some specific programs with the president to see which ones he would be willing to cut.
"We don't want a package that is too small, because that will end up just wasting money," she said. "On the other hand, we're very leery of having an enormous package that would not be necessary and would just boost the federal deficit."
Earlier Thursday, Obama ratcheted up the pressure on Congress to pass the plan, arguing that failure to act quickly would make a bad situation worse.
"This is not some abstract debate," he said during an address to employees at the Energy Department. "The time for talk is over. The time for action is now."
The House passed an $819 billion version of the stimulus plan last week, but no Republican voted in favor of it.
The president will need at least some Republican support to get the 60 votes needed to bring the bill before the full Senate.
The Senate has 56 Democrats and two independents who usually vote with them. There are 41 Republicans.
On Wednesday, the Senate approved an amendment to offer a $15,000 tax credit to people who buy a home in the next year.
The housing amendment, introduced by Sen. Johnny Isakson, R-Georgia, was seen by some as a move to sweeten the deal for Republicans.
But some GOP members appeared dead-set against the plan and bridled at Reid's suggestion that time is of the essence.
"I am here today to point out the fact that this is not bipartisanship," said Sen. Lindsey Graham, a Republican from South Carolina. "This process that we are engaging in is not smart, we are not working together, we're about to spend $800 or $900 billion, and nobody's got a clue where we're going to land, but we've got to do it by tonight.
"If this is the solution to George Bush's problems, the country is going to get worse. ... If this is the change we all can believe in, America's best days are behind her," he said.

President Obama was privately telling senators in both parties that he is confident his plan will pass in the Senate by the end of the week, according to two senior administration officials and two Congressional officials.
Getting the bill through the Senate by the end of the week would keep the legislation on track to be signed into law by Presidents' Day, February 16, which has been Obama's target.
E-mail to a friend

CNN's Ed Henry, Dana Bash and Lisa Desjardins contributed to this report.
All About Barack Obama • U.S. Senate • U.S. House of Representatives