By John King
CNN Chief National Correspondent





CARMEL, Indiana (CNN) -- James Brainard is a Republican mayor whose city sits in a Republican county carried comfortably by Sen. John McCain in last year's presidential race. But at the moment, he is rooting for President Obama.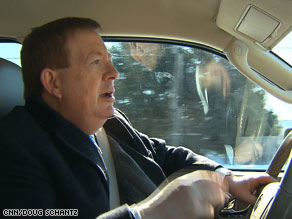 Carmel Mayor James Brainard says, "Cities are going to get shovels in the ground faster than the states do."
"Government should be investing in infrastructure," the Carmel mayor said in his City Hall office. "That is what government is meant to do. It creates long-term value. I think the stimulus plan is a good one."
Not that Brainard necessarily takes issue with the unanimous House Republican opposition to the initial plan.
"They wanted to get certain things in the bill, and it seems like they have accomplished that," Brainard said. "So, I hope, I hope that most of them voted 'no' simply as a strategy to get a few things in the bill that they thought are important."
But with each passing day, the mayor now says the goal of creating jobs fast is in jeopardy.
"The worst thing they could do is, they could talk it to death. If we are going to do it, we need to do it and do it right away with the understanding that perfection is an illusive thing," Brainard said. "It is not going to be perfect. Everything isn't going to work exactly right. The timing, doing it quickly, getting those shovels into the ground, is the key thing that needs to be done."

Watch a Michigan mayor talk about the crisis his city faces »
The unemployment rate in Indiana was 4.5 percent at the end of 2007 but is 8.2 percent now.

View a chart of the national unemployment rate »
Carmel is an upscale community north of Indianapolis that is faring relatively well, but Brainard can rattle off a list of projects he says have had trouble getting financing because of the credit crunch. And despite rapid growth, Carmel is hardly immune to the real estate problems at the center of the economic crisis.
Housing permits dropped from roughly 1,400 two years ago to 600 or so last year, and housing values dropped about 8 percent.
"That is not good, but not as bad as other places in the country," the mayor said.
'State of the Union'
John King reinvents Sunday talk. More time -- for more politics.
Sunday, 9 a.m. ET

As with many mayors, his biggest worry is who controls the spending once a stimulus bill is passed. Governors argue that they should set the priorities for their states; most mayors say that a good chunk of the money should flow directly to them.

Watch how the public feels about the stimulus plan »
"It is a proven fact that cities are going to get shovels in the ground faster than the states do," Brainard said.
His wish list runs several pages and costs a combined $428 million. Brainard says his priorities would create more than 12,000 jobs.
His list includes several new roads and roundabout projects, which he says not only ease congestion but save fuel by replacing red lights. There is a parking garage for downtown, a couple of fire engines.
And, yes, the mayor is unapologetic in seeking federal funding for a pool with a water slide.
"Someone has to construct that amenity," the mayor said before taking us on a drive around the city. "We believe in parks, we believe in greenspace, because that makes our community more competitive for jobs, for high-paying jobs.
"People want to spend. They don't mind spending tax money as long as they can see the results of it. They see this black hole in Washington sometimes. They never see where the money is going. To see it spent in their local community, that makes their properties worth more, because they are close to this park, their quality of life better, they are all for it."
For Brainard, the issue of the moment is stimulus. For Scott McMillin, it is survival.
He began working for General Motors in Illinois 25 years ago and transferred to Kokomo, Indiana, after his first plant closed. About four years ago, he shifted to a GM facility in Indianapolis.
On Friday, company officials will visit that plant to pitch a buyout plan that GM management hopes helps it shrink its unionized work force as it tries to convince Congress to support it with federal bailout funds.
"I will turn this buyout down," McMillin said during a visit to the local United Auto Workers Union hall. "I have a daughter in college. I have bills to pay and obligations to meet, and right now, I am just not ready."
But he knows he is running the risk of GM closing the Indianapolis plant in the months ahead and tossing him from work with a less favorable package, if anything.
"There are too many unknowns," McMillin said.

But one thing he does know helped him decide to take the risk and stay at GM.
"If I did retire now from General Motors, I would be looking for another job, and they just aren't out there."
E-mail to a friend

All About Unemployment Rate • National Economy • Economic Stimulus