From Alexander Mooney
CNN





WASHINGTON (CNN) -- An influential conservative political action committee is pledging to support primary challenges to any Republican senator who backs the economic stimulus package -- the latest public show of dissatisfaction from the right over the massive measure before Congress.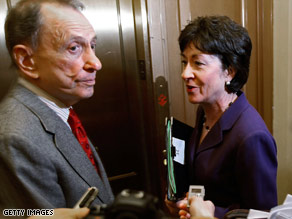 GOP Sens. Arlen Specter and Susan Collins are two of the three Republicans who voted for the stimulus bill.
Three GOP senators voted for the $838 billion compromise version of the package that the Senate approved Tuesday, but all three have said they might not vote for the final version.
"The American people don't want this trillion-dollar political payoff that will just line the pockets of non-governmental organizations who supported [President Barack] Obama in the election," said Scott Wheeler, the executive director of The National Republican Trust PAC, an organization that calls for less government spending and lower taxes.
"Republican senators are on notice," he said. "If they support the stimulus package, we will make sure every voter in their state knows how they tried to further bankrupt voters in an already bad economy."
Olympia Snowe and Susan Collins of Maine and Arlen Specter of Pennsylvania were the three GOP senators who voted for the bill Tuesday. All three were involved in forging the Senate compromise, in which some spending proposals were cut from the plan, and have said they may not vote for the final version -- which will be hammered out by a Senate-House conference committee -- if more spending projects are added to it.
The PAC's pledge appears most threatening to Specter, the only one of the three who faces re-election in 2010. A longtime moderate, Specter has faced tough primary challengers in the past, including Club for Growth President Pat Toomey in 2004.
"[Sen. Specter] crossed the line one too many times," Wheeler told CNN. "We're now going to get involved in finding a conservative alternative."
Toomey has said he is not interested in running again, and another credible challenger has yet to emerge in the race. Still, Specter's decision to vote for the stimulus bill has irked many Republicans in his home state and may have virtually guaranteed a primary fight.
Speaking to CNN Tuesday, Specter said his vote has resulted in a flood of negative phone calls to his office and predicted it would lead to a tough primary battle.
Don't Miss
"I have no doubts about the political disadvantage," he said. "[I'm] losing a lot of political skin about this and I've got a primary battle coming up in about a year. ... It means I'll have to raise a lot more money."
But Specter added the country's continued economic turmoil made the cost of not passing a massive stimulus bill too heavy to bear.
"When you have an economy in terrible shape, and we have economists saying we may have a catastrophe and we may have another 1929 full scale depression unless we act, then I think that has to be the course," he said.
Collins and Snowe did not return CNN's calls seeking comment. Collins solidly won re-election last November and Snowe's seat is not up until 2012.
The PAC's pledge came the same day another conservative group launched a series of robo-calls in Pennsylvania and Maine, urging constituents to call their Republican senators and demand they stop supporting Obama's stimulus package. iReport.com: Share your thoughts on the stimulus package
Delaware-based Let Freedom Ring on Tuesday began making 100,000 robo-calls in Pennsylvania and 50,000 in Maine, according to Colin Hanna, the group's president.
"Would you be willing to contact your senator, Arlen Specter, today and tell him to vote no on the Obama tax and spend plan?" the Pennsylvania call asks, before providing a phone number for Specter's Washington office.
Nationally, a CNN/Opinion Research Corp. poll released Monday showed a slight majority of Americans, 54 percent, favored the stimulus bill while 45 percent were opposed. However, only 32 percent of Republicans said they favored the bill.
The survey was conducted Saturday and Sunday, with 806 adult Americans questioned by telephone. The survey's sampling error was plus or minus 3.5 percentage points for the overall sample and plus or minus 6.5 percentage points for the breakdown by party preference.
E-mail to a friend

CNN's Peter Hamby, Dana Bash and Evan Glass contributed to this report
All About National Economy • U.S. House of Representatives • U.S. Senate