EAST PEORIA, Illinois (CNN) -- President Obama took his economic stimulus proposal back on the road Thursday, urging final congressional passage of the now-$789 billion bill during a visit to a Caterpillar plant in the state that launched his political career.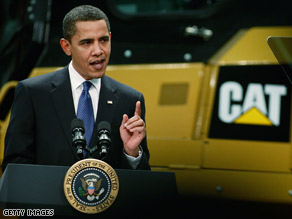 "It is time for Congress to act," Obama told workers as he stood in front of a backdrop of heavy earth-moving machinery. If the plan is passed, he promised, "a new wave of innovation, activity and construction will be unleashed all over America." It will be "a major step forward on our path to economic recovery."
Congress expects to send the stimulus package to Obama's desk by the Democrats' self-imposed Monday deadline.
The House could have voted on final passage as early as Thursday, but House Speaker Nancy Pelosi pushed the vote back to Friday after many House Democrats, upset that some education spending was pulled from the final plan, said they wanted to read the bill's language closely before voting.

Watch the latest on the stimulus bill »
Peoria has been particularly hard hit by the economic downturn. Caterpillar, its largest employer, recently announced that, due to the recession, it would be cutting more than 20,000 jobs by the end of the first quarter of 2009.
"In many ways, you can measure America's bottom line by looking at Caterpillar's bottom line," Obama said. When a company "as lean and mean as Caterpillar is cutting jobs ... it means we're standing still, (and) standing still is not an option."
"I just felt, I thought I couldn't lose with this company," said Chris Guynn, one of the workers laid off by Caterpillar. "It was a company that you could just retire with -- great pension, retirement, 401(k) and so on."
Guynn, who moved his wife and two children to Peoria from Las Vegas, Nevada, to take a job with Caterpillar, expressed hope that Obama could help reverse the economic tide.
"I want to give him a fair shot," Guynn said. "I know it's not going to happen overnight, but I'm willing to see what he's going to do."
Obama indicated that Caterpillar CEO Jim Owen, who serves on the president's Economic Recovery Board, would be able to reverse some of the announced job cuts if Congress passes the stimulus plan.
Owen was by Obama's side during the president's visit to the plant.
Obama's Peoria visit was his fourth trip outside of Washington this week to promote the stimulus bill. The president, hoping to recapture some of last year's campaign magic, visited Indiana on Monday, Florida on Tuesday, and Virginia on Wednesday.
All three states are traditional GOP strongholds carried by Obama last November. While most congressional Republicans are continuing to express reservations about the scope and priorities of the stimulus package, the president has said he is still actively courting GOP support for the plan.
Hopes of bipartisanship suffered a setback late Thursday, however, when Sen. Judd Gregg, R-New Hampshire, withdrew his nomination for commerce secretary, citing "irresolvable conflicts" over the stimulus bill and other issues.

"We are functioning from a different set of views on many critical items of policy," Gregg said in a statement announcing the decision. "Obviously, the president requires a team that is fully supportive of all his initiatives."
Gregg would have been the third Republican to join the Democratic administration, following Defense Secretary Robert Gates and Transportation Secretary Ray LaHood.
E-mail to a friend

All About Barack Obama • Illinois