ROME, Italy (CNN) -- Pope Benedict XVI met Nancy Pelosi, the speaker of the United States House of Representatives, at the Vatican on Wednesday, both sides said in statements -- but that seems to be all they agree on.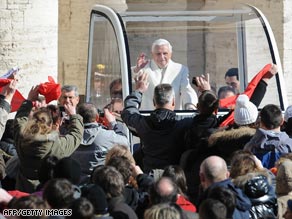 Pope Benedict XVI arrives in St. Peter's Square, Vatican City, on Wednesday.
The Vatican says the pope lectured Pelosi about abortion and assisted suicide. Pelosi says they talked about poverty and global warming -- and she showed him pictures of her grandchildren.
"His Holiness took the opportunity to speak of the requirements of the natural moral law and the Church's consistent teaching on the dignity of human life from conception to natural death," the Holy See said in a statement.
Benedict emphasized that "all Catholics, and especially legislators, jurists and those responsible for the common good of society" should work to create "a just system of laws capable of protecting human life at all stages of its development."
Pelosi's office issued a statement that paints a completely different picture of the meeting.
"It is with great joy that my husband, Paul, and I met with his Holiness, Pope Benedict XVI today," she said in the statement.
"I had the opportunity to praise the Church's leadership in fighting poverty, hunger, and global warming, as well as the Holy Father's dedication to religious freedom and his upcoming trip and message to Israel," she said.
"I was proud to show his Holiness a photograph of my family's papal visit in the 1950s, as well as a recent picture of our children and grandchildren."
Pelosi aides refused to comment on the discrepancy between the two sides' statements, other than to say "they chose to highlight different parts of the meeting."
The House speaker supports a woman's right to have an abortion but has said publicly she wants to reduce the number of abortions.
The Republican leadership of the House chose the day of Pelosi's meeting with the pope to reiterate its own opposition to abortion.
House Republican Leader John Boehner of Ohio and House Republican Policy Committee Chairman Thaddeus McCotter of Michigan wrote Wednesday to Cardinal Justin Rigali of the U.S. Conference of Catholic Bishops thanking him for a February 5 letter the cardinal sent to all members of Congress urging legislators to fight to protect the sanctity of unborn human life.
"We stand with you in the defense of all human life," Boehner and McCotter wrote in their letter, which they released to the public.
"[W]e are committed to working with our pro-life colleagues on both sides of the aisle to proactively defeat efforts to enact the so-called Freedom of Choice Act (FOCA) or any similar measure. We are similarly committed to working to retain, and not weaken, laws that prohibit using federal funds for the purpose of promoting or funding promotion of abortion."
E-mail to a friend

CNN Congressional Producer Deirdre Walsh contributed to this report.
All About Pope Benedict XVI • United States