From Ed Hornick
CNN






WASHINGTON (CNN) -- America is "a nation of cowards" when discussing race. That sentiment from the country's first African-American attorney general, Eric Holder, has stirred up pundits, bloggers and readers.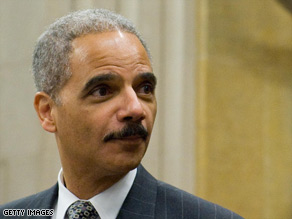 Attorney General Eric Holder helps celebrate Black History Month at an event Wednesday at the Justice Department.
"Though this nation has proudly thought of itself as an ethnic melting pot, in things racial, we have always been and we -- I believe continue to be in too many ways essentially a nation of cowards," Holder told Department of Justice employees at an event Wednesday celebrating Black History Month.
He said that Americans are afraid to talk about race, adding that "certain subjects are off-limits and that to explore them risks at best embarrassment and at worst the questioning of one's character."
And that impression of race in America has set off a firestorm of criticism.

Watch more of Holder's comments »
"Holder doesn't want an honest dialogue about race. In the Age of [President] Obama, 'talking enough with each other about race' means the rest of us shutting up while being subjected to lectures about our insensitivity and insufficient integration on the weekends," conservative blogger Michelle Malkin wrote.
Stephan Tawney, writing on the American Pundit blog, said a glimpse at the national political landscape -- namely the country's first black president -- suggests otherwise.
"Our attorney general is black, both major parties are led by black men, the president is black," he wrote. "Last month, the nation officially honored Martin Luther King Jr. as it does every year, and Holder is speaking during Black History Month. And yet we're apparently a 'nation of cowards' on race."
Ron Christie, a one-time domestic policy adviser to former President George W. Bush, said that for the nation's chief law enforcement officer to raise race issues "was wrong and it was very insulting to the American people."
CNN iReport contributor Jimmy Deol of Toronto, Ontario, called Holder's remarks "a bit strong and needlessly provocative."
"I don't think lack of dialogue on race relations in America makes Americans a nation of cowards. Perhaps most people are uncomfortable with the subject with its complex past. The solution: You tell me," he wrote. See Deol's reaction on iReport.com
Holder -- who said that he wants to "revitalize the Civil Rights Division" at the Justice Department -- said Wednesday that he wants to start a new conversation.
"I think if we're going to ever make progress, we have to have the guts. We have to have the determination to be honest with each other," he said.
And that view is something with which CNN political analyst Roland Martin agrees.
"But what he has asked African-Americans to say is personally, go outside of your comfort zone and begin to embrace folks beyond your particular race," Martin said.
Hilary Shelton of the National Association for the Advancement of Colored People agreed that Holder's comments are "provocative."
"We don't talk about race in our country, and he's right. ... We've kind of learned to get along, but we've learned to get along by omitting things," Shelton said.

Watch more on the Holder debate »
A reader on the liberal Huffington Post Web site wrote: "How can you read Mr. Holder's comments and immediately decide that he is wrong and should apologize? You are either disillusioned from the real world or caught up in some fantasy to which you believe there is no problem with racism in this country."
The reader added, "Mr. Holder is correct in everything he said. We will never get past this issue until we discuss, confront, understand and then heal."

CNN senior political analyst David Gergen agreed with Holder that there is "too much de facto segregation" on weekends, but he said the attorney general's comments failed to take into account how far the country has come.
"If you look at overall where we've come, we just had a huge, huge debate. And now we've elected a black American, and to seemingly after that to call this a 'nation of cowards,' it's just tone-deaf," Gergen said.
E-mail to a friend

CNN's Jessica Yellin contributed to this report.
All About Eric Holder • U.S. Department of Justice