By Jonathan Mann





(CNN) -- Four weeks after becoming President of the United States, Barack Obama has now become a true commander-in-chief, committing himself to war.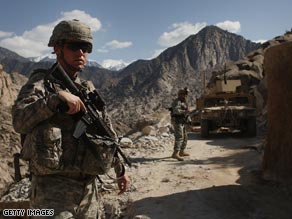 U.S. soliders patrol in Gandalabog province, Afghanistan.
The man many people viewed as the antiwar candidate in last year's election has made his first major military decision.
This week, he ordered 17,000 more troops for Afghanistan.
Considering that the U.S. has roughly 38,000 there now, that's more than a 40 percent increase and the numbers are widely expected to keep going up.
What happened? Obama is just trying to keep a tough promise.
From the very beginning of his campaign for the presidency two years ago, Obama called the war in Iraq a mistake and promised to end U.S. involvement there.
He got a lot less attention for his frequently repeated pledge on Afghanistan; he wouldn't withdraw, he would win.
He called Afghanistan 'ground zero' in the war on terror and said the Bush administration had neglected it.
Neglected or not, the fight in Afghanistan has been overshadowed in the U.S. by the effort in Iraq.
The Pentagon was stretched thin trying to wage two wars at once and invested itself more heavily in the new regime in Baghdad.
If Obama withdraws men from Iraq, he'll be able to find the troops he needs.
But there's no guarantee they'd be the answer.
There are already roughly 30,000 more troops from 40 other countries in Afghanistan and even with that help, Obama concedes the effort to defeat the Taliban "appears to be deteriorating."
Some military experts believe that it would take an enormous escalation to shift the military balance.
Obama himself says the numbers aren't the answer; no troop commitment alone will guarantee victory.
"I am absolutely convinced that you cannot solve the problem of Afghanistan, the Taliban, the spread of extremism in that region solely through military means," he said this week.
So the hard fight ahead will require hard work too; efforts to improve Afghanistan's government, enlarge its armed forces and defeat the drug trade.
Pundits in the U.S. are warning that Afghanistan could be Obama's Vietnam.
It's premature to predict defeat, but this we do know: History will remember the conflict that toppled Saddam Hussein in Iraq as George Bush's war.
Now, Barack Obama is beginning to make Afghanistan his very own.
E-mail to a friend

All About Barack Obama • Republican Party • Democratic Party