By Suzanne Malveaux
CNN White House Correspondent





WASHINGTON (CNN) -- Several dozen mayors from across the country emerged from their meeting with President Barack Obama on Friday with one message -- they are determined to get their money.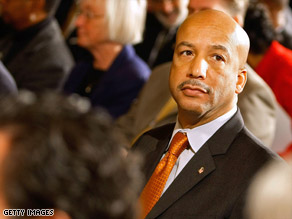 New Orleans Mayor Ray Nagin says he will apply for stimulus money regardless of Gov. Bobby Jindal's stance.
The mayors met with Obama to discuss the implementation of city-related funding from the $787 billion stimulus package.
"This plan does more to lay a new foundation for our cities' growth and opportunity than anything Washington has done in generations," Obama told them at a White House reception.
The economic stimulus package sets aside billions of dollars for highway construction, transit improvements, school modernization and community development block grants, among other things.
San Francisco Mayor Gavin Newsom noted, however, that getting those dollars is a competitive process.
"I think those cities that have stepped back and have not organized to date are in real peril of missing out on the competitive dollars," he said.
"We need to be front and center, because you've got short timelines here and the timelines are not only to get the dollars distributed, but more importantly to make sure they're spent within 18 months, as we're prescribing most of these dollars to be spent."
Getting this kind of money is an unbelievable opportunity, Newsom said.
"As a mayor, I'll never experience this again, and perhaps as a citizen of this country -- and as the next ex-mayor of San Francisco, I don't think I'll ever experience it either, so we don't want to screw it up."
Democratic Mayor Ray Nagin of New Orleans vowed that he would get his share of the stimulus, even if his state's Republican governor, Bobby Jindal, tries to block it. Jindal has threatened to refuse the billions of dollars in stimulus money Louisiana is qualified for because he believes the economic stimulus package is a waste of money.
Nagin suggested politics motivated Jindal's hard-line stand.
"He thinks he's been tapped as the up-and-coming Republican. He'll potentially run for it (the presidency) the next time it goes around. So he has a certain vernacular and a certain way he needs to talk right now," he said.
"I don't think it's going to impede us, because Rep. [James] Clyburn basically said if a governor does not want this money, the legislator can vote to accept the money. I told the governor personally, any dollar he does not want, we will take them gladly."
Clyburn, a South Carolina Democrat, spoke out after Jindal indicated he might not take the money.
Republican Mayor Patrick McCrory of Charlotte, North Carolina, acknowledged he is one of the Republicans who are not fans of the $787 billion plan, but he's still pursuing his city's share.
"I thought too much emphasis was on non-infrastructure projects. My hope was if we're going to do a stimulus it would be on long-term infrastructure projects, like during the Eisenhower administration, which would have impact for generations to come, since they'll be paying for it," he said. "But since the bill's been passed now I've got to work with the bill and try to implement it the best way I can in my city and as other mayors will do in their cities."
McCrory rejected the suggestion that he should refuse the money to be consistent with his party's stand. Only three Republican senators voted for the stimulus package.
"It's our money that's being spent. I mean, I'm sending my tax dollars -- my income tax dollars along with my constituents' tax dollars -- to Washington, and if I don't spend it these other mayors will spend it, and that wouldn't be fair to my constituents," he said. "So I do not think it's a sign of hypocrisy or a contradiction. We do this every year with bills that are passed or not passed. During the last 14 years I've been mayor, there have been many bills that have been passed which I disagree with, but once it's passed, you've got to make it work, and that's what I hope to do in Charlotte."
McCrory believes Republican governors who are threatening to block funds to their states are making a big mistake.
"I would disagree with them, unless some of the money, you've got to be careful with, because it could be tied to long-term operating money, which could put you in a bind only two or three years from now. That I understand, but just overall rejecting the infrastructure money would be a mistake for their own taxpayers because those taxpayers are paying for it whether they get it or not," he said.
Newsom said that despite the rush for the funds, the Obama administration has set a reasonable timetable.
"I think it is, under the circumstances, but it focuses peoples' attention, and in politics our attention sometimes wanders. And so this is an opportunity in the next two or three months to get very serious because it can play a huge role in dramatically changing the direction of a lot of American cities."
Newsom said the federal dollars will be especially helpful to his high tech area. "We're seeding a modernization strategy: on Wi-Fi, on ubiquitous broadband access, on modernizing integrated traffic management systems, on smart grids, on transmission lines, on focusing on electric vehicles and greening of our workforce."
Newsom said the biggest challenge in getting money right away is "making sure that the grant applications are consistent, collaborative and coordinated and that they meet the criteria that have been set out.
"That was the advantage of this meeting, because we were able not only to meet with the president and vice president, but the secretaries and the Cabinet-level officials that are really drawing down on the specific, prescriptive nature of some of these applications, and that was, for me, a great opportunity to take notes, read between the lines in terms of what they're looking for, again, particularly on the competitive dollars."
E-mail to a friend

All About Economic Stimulus • Barack Obama • Ray Nagin • Gavin Newsom • Bobby Jindal