By Paul Steinhauser
CNN Deputy Political Director





WASHINGTON (CNN) -- A national poll indicates that two out of three Americans approve of the way Barack Obama is handling his job as president of the United States.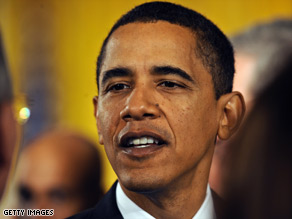 A poll shows approval of President Obama slipping, but most of the loss of support is among Republicans.
The CNN/Opinion Research Corp. survey, released Friday, also suggests that six in 10 support the economic stimulus package that Obama signed into law Tuesday.
Obama's approval rating stands at 67 percent in the new poll. That's down 9 percentage points from the most recent CNN poll, which was conducted in early February. But a breakdown by party suggests that the drop doesn't mean that the new president is in serious trouble.
"Since nearly all of the decline came among Republicans, this doesn't indicate that the honeymoon is already over," said Keating Holland, CNN's polling director. "Among Democrats, Obama's approval went from 96 percent to 92 percent; among Republicans, it dropped from 50 percent in early February to 31 percent now."
Among independents, the president's approval rating now stands at 61 percent, down 6 percentage points from earlier in the month.
Sixty percent of those questioned in the poll favored the economic stimulus plan, with 39 percent opposing the package. The $787 billion law is designed to pump up the economy by increasing federal government spending, sending aid to states in fiscal trouble and by cutting taxes.

Watch Obama's comments after signing the stimulus »
Do Americans think the stimulus will work?
A slight majority, 53 percent, said the plan will improve economic conditions, while 44 percent said it won't help stimulate the economy. And 31 percent of those questioned indicated the package will improve their own financial situation, with two out of three saying the stimulus won't help them personally.
Don't Miss
"Americans often don't see a connection between big government programs and their own wallets," Holland said. "That's what makes the various bailout packages such a hard sell with the public, and why the White House might have felt that they needed to include tax cuts in the stimulus package."
Of those 53 percent who said the plan will work, 19 percent felt it will start improving the economy by the end of the year, with 16 percent saying it will make a difference by next year and another 18 percent feeling it will take longer than two years.
"It goes without saying that Democrats support the stimulus bill and Republicans oppose it," Holland added. "Nearly nine in 10 Democrats favored the plan, while three-quarters of Republicans thought it was a bad idea." iReport.com: How is Obama doing so far?
Forty-nine percent said they think the passage of the economic stimulus plan was a major victory for Obama, with 28 percent calling it a minor accomplishment and 22 percent indicating it was not a positive achievement.
The bill passed Congress less than four weeks after Obama took office. It passed the House of Representatives with no Republican support. In the Senate, three of 41 Republicans backed the bill.

The survey's release comes one month after Obama's inauguration. Fifty-eight percent of those polled said Obama has so far met their expectations, and another 16 percent suggested that he's exceeded their expectations. Nearly one in four said that the president has fallen short of what they expected.
The CNN/Opinion Research poll was conducted Wednesday and Thursday, with 1,046 people questioned by telephone. The survey's sampling error is plus or minus 3 percentage points.
E-mail to a friend

All About Barack Obama • Economic Stimulus