By Jack Cafferty
CNN





Editor's note: Jack Cafferty is the author of a new book, "Now or Never: Getting Down to the Business of Saving Our American Dream," to be published in March. He provides commentary on CNN's "The Situation Room" daily from 4 to 7 p.m. ET. You can also visit Jack's Cafferty File blog.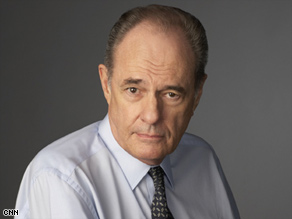 Jack Cafferty says America has to rethink its aspirations in light of the growing national debt.
NEW YORK (CNN) -- I think this time, it's different. I have this uneasy feeling our country is in the process of changing forever, and not necessarily for the better -- unless our perspective changes with it.
I have kicked around longer than most people: I'm 66 years old. I remember well the '50s and early '60s, which were times of unbridled enthusiasm, prosperity and opportunity.
The American dream was a job, a house, a car. A modest, affordable house and a car that was most likely a Chevrolet, Ford or Plymouth.
People weren't in debt buying things they couldn't afford, and neither was the government. There were recessions along the way -- relatively mild downturns of short duration -- but nothing like this feels like it's going to be.
The interest on the national debt will approach $500 billion a year this year or next. Our country is sinking into the quicksand of insolvency as surely as the victims of subprime mortgages who have lost their jobs and their houses and watched their savings evaporate in the stock market decline.
Don't Miss
The current national debt is soaring past $12 trillion. The costs of the stimulus packages and bailouts (and stimulus package is just another word for bailout) are being tacked on and passed on because they are being paid for with money we don't have.
We are staring at unfunded liabilities for Medicare and Social Security in the tens of trillions of dollars. Where's that money going to come from? We have to either raise taxes or cut benefits. There are no other options.
The baby boomers are starting to retire and will consume an ever larger share of these entitlement programs. They will also age in sufficient numbers to drive the political agenda for the foreseeable future. Think they're going to want less Social Security and less Medicare? Think again.
The generation coming along behind them that will be asked to pay for all this can't. There are not enough good jobs left in this country to pay those kinds of bills.
At the end of the day, we are going to have to settle for less. Less money, smaller houses, smaller cars and smaller dreams.
This is not your father's country anymore. And we had better all start getting used to it.
On the bright side, our history shows that times of shared national sacrifice have resulted in our greatest national achievements. It's been a very long time since we have been called upon to make any kind of serious sacrifice. We were overdue until one day in September, when Lehman Brothers collapsed. We're not overdue anymore.
The opinions expressed in this commentary are solely those of Jack Cafferty.
E-mail to a friend

All About Medicare • Social Security Administration • Recessions and Depressions