(CNN) -- The United States has offered more than $900 million to help the Palestinian people, particularly those in Gaza, Secretary of State Hillary Clinton announced Monday.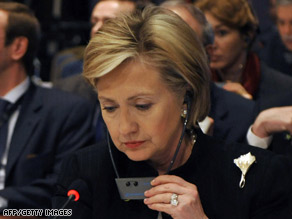 U.S. Secretary of State Hillary Clinton attends Gaza donors conference in Egypt on Monday.
"Only by acting now can we turn this crisis into an opportunity that moves us closer to our shared goals," Clinton said at a Gaza donors conference hosted by Egypt in the Red Sea resort city of Sharm el-Sheikh.
"By providing humanitarian assistance to Gaza, we also aim to foster conditions in which a Palestinian state can be fully realized."
She said the U.S. aid package -- which must be approved by Congress -- has been "designed in coordination with the Palestinian Authority" to make sure the money "does not end up in the wrong hands."
Clinton was referring to the Hamas leadership of Gaza, which the United States has designated a terrorist organization. The Palestinian Authority, based in the West Bank, is led by President Mahmoud Abbas, whose Fatah party is a bitter rival of Hamas.

Watch CNN's Ben Wedeman on the huge challenge of rebuilding Gaza »
President Obama has not ruled out talks with Hamas but said the group must first renounce violence, recognize Israel, and abide by previous agreements that successive Palestinian governments have reached with the Israelis.
Clinton is on her second overseas trip as secretary of state, after a tour of Asia last month. This week's trip to the Middle East and Europe focuses on Mideast peace, NATO and relations with Russia.
Don't Miss
After the conference in Egypt, Clinton will travel to Israel and the West Bank.
On Thursday, she heads to Brussels, Belgium, for an informal meeting of NATO foreign ministers in preparation for the NATO summit in April. The next day, Clinton is scheduled to meet with Russian Foreign Minister Sergey Lavrov to begin the process of what Vice President Joe Biden has called "pressing the reset button" in the U.S.-Russian relationship.
She then heads to Ankara, Turkey, for talks with key leaders before returning to the United States on Saturday.
State Department spokesman Robert Wood said Clinton's trip is an effort to "take the pulse of various leaders" on peace in the Middle East.
Israel recently ended a three-week military campaign in Gaza to stem rocket attacks.
Despite the operation, Israel and militants in Gaza continue to trade fire.
Egypt has been trying to broker a broader peace deal to reopen Gaza's borders, which have been under an Israeli blockade. Israel has allowed limited humanitarian supplies into the Palestinian territory, but international aid organizations operating in Gaza say it is not enough.

Watch Mideast envoy Tony Blair talk about challenges of helping Gaza »

Israel says it must maintain the border closure and blockade of Gaza's seaports to prevent weapons from entering Gaza. Egypt, which also shares a border with Gaza, has not reopened the Rafa border crossing.
Israel is demanding that Hamas release a kidnapped Israeli soldier before it fully reopens the border crossings with Gaza. But Hamas has rejected including the release of Gilad Shalit as part of a cease-fire negotiation with Israel.
E-mail to a friend

All About Hillary Clinton • Gaza • Israel • Palestinian Politics