JERUSALEM (CNN) -- The U.S. government will dispatch two officials to the Syrian capital to explore Washington's relationship with Damascus, Secretary of State Hillary Clinton announced Tuesday.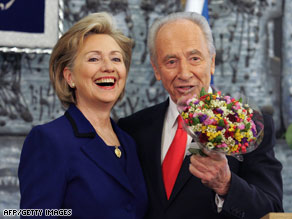 Secretary of State Hillary Clinton meets with Israeli President Shimon Peres in Jerusalem on Tuesday.
"There are a number of issues that we have between Syria and the United States, as well as the larger regional issues that Syria obviously poses," she said.
She said the officials -- a representative from the White House and one from the State Department -- would explore "some of these bilateral issues."
"We have no way to predict what the future with our relations concerning Syria might be," she said.
"We don't engage in discussions for the sake of having a conversation. There has to be a purpose to them, there has to be some perceived benefit."
Clinton noted that members of the U.S. Congress have visited Damascus in recent weeks and months.
Last week, the State Department's top Middle East official, Jeffrey Feltman, met with the Syrian ambassador to the United States, marking a resumption of diplomatic dialogue after nearly five years.
The United States withdrew its ambassador from Syria four years ago, in protest of the assassination of former Lebanese Prime Minister Rafik Hariri.
Washington accuses Syria of being behind the killing of the popular statesman in a massive bombing in February 2005 that also left 22 others dead. Syria denies it, but an ongoing United Nations investigation found indications of Syrian involvement.
Clinton is in the Middle East on her second overseas trip as secretary of state, after a tour of Asia last month.
She met with Israeli leaders on Tuesday, a day after pledging $900 million to help the Palestinians, and vowed to "do everything we can to ensure Israel's security now and into the future."
Clinton spoke at a joint news conference in Jerusalem with her Israeli counterpart, Foreign Minister Tzipi Livni, after their meeting, which included discussions about dealing with Hamas-controlled Gaza and Iran's nuclear program.
"We share Israel's concern about Iran's pursuit of nuclear weapons and its continued financing of terrorist organizations," Clinton said.
Israel has raised concerns about Iran's nuclear program, which the Islamic republic insists is only for peaceful purposes. Iran tested its first nuclear power plant last week using "dummy" fuel rods. Iranian officials said the next test will use enriched uranium, but it's not clear when the test will be held or when the facility will be fully operational.
The United States believes that Iran likely has enough material to make a nuclear weapon, Joint Chiefs of Staff Chairman Adm. Mike Mullen told CNN's John King on Sunday. Mullen's statement was rejected by Iran's Foreign Ministry as propaganda.
Earlier Tuesday, Clinton met with Israeli President Shimon Peres and repeated her warnings that rocket attacks from Gaza against Israel "must cease."
She planned to meet with Prime Minister-designate Benjamin Netanyahu, Defense Minister Ehud Barak and outgoing Prime Minister Ehud Olmert later in the day.
Clinton, accompanied by the U.S. special envoy on Mideast peace, George Mitchell, said it is a sensitive time as Israel tries to form a new government.
"The democratic process has its ups and downs," she told Peres, but "I want you to know that we will work with the government of Israel that represents the democratic will of the people of Israel."
When asked how the United States will deal with Netanyahu's opposition to an independent Palestinian state, Clinton said his view will be respected but noted that "the inevitability of working toward a two-state solution seems inescapable."
"That doesn't mean we don't respect the opinions of those who see it differently," she said. "We happen to believe that moving toward a two-state solution is in Israel's best interest."
Netanyahu is in the process of trying to include Israeli moderates in his government, which is currently dominated by his right-wing allies. Peres said a new government could be formed "quite soon."
Clinton will visit Palestinian leaders in the West Bank on Wednesday, including Palestinian Authority President Mahmoud Abbas and Prime Minister Salam Fayyad.

Watch Clinton discuss Israel-Palestinian issues »
On Thursday, she'll head to Brussels, Belgium, for an informal meeting of NATO foreign ministers in preparation for the NATO summit in April. The next day, Clinton is scheduled to meet with Russian Foreign Minister Sergey Lavrov to begin a process that Vice President Joe Biden has called "pressing the reset button" in the U.S.-Russian relationship.
She then heads to Ankara, Turkey, for talks with key leaders before returning to the United States on Saturday.
State Department spokesman Robert Wood said Clinton's trip is an effort to "take the pulse of various leaders" on peace in the Middle East.

On Monday, Clinton attended a Gaza donors conference hosted by Egypt in the Red Sea resort city of Sharm el-Sheikh. She announced that the United States has pledged $900 million to help the Palestinian people and support the Palestinian government in the West Bank.
She said the U.S. pledge, which must be approved by Congress, has been "designed in coordination with the Palestinian Authority" to make sure the money "does not end up in the wrong hands" -- an apparent reference to the Hamas leadership in Gaza, which the United States has designated a terrorist organization.
E-mail to a friend

All About Syria • Israel • Palestinian Politics • Hillary Clinton