By Mark Preston
CNN Political Editor





WASHINGTON (CNN) -- Democrats launched a Web site Wednesday that mocks GOP leaders for apologizing to radio host Rush Limbaugh for criticizing or publicly disagreeing with him.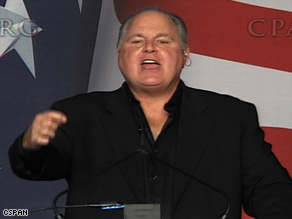 Radio host Rush Limbaugh has been vocal about his displeasure with President Obama's policies.
The Democratic Congressional Campaign Committee is hosting the Web site, which allows visitors to create an apology to Limbaugh on behalf of Rep. Phil Gingrey, R-Georgia; South Carolina Gov. Mark Sanford; or Republican National Committee Chairman Michael Steele.
"You and I both know that in reality, you simply want President Obama to fail in this time of economic collapse," reads the fake letter of apology template. "How can I disagree with that? Please accept my sincere apologies, oh great leader of the Republican Party."
The Web page apparently has an unlikely fan. A banner headline across the top of Limbaugh's Web site, rushlimbaugh.com reads: "Hilarious: Democrat Party Launches Yet Another Anti-Rush Website."
Democrats have sought to portray Limbaugh as the leader of the Republican Party and stepped up their efforts last weekend to promote the idea after the talk show host told a gathering of conservative political activists to stand strong for their principles.
Limbaugh was unapologetic for saying earlier this year that he hoped Obama would fail.

Watch Republican congressman discuss Limbaugh's comments »
"What is so strange about being honest and saying, I want Barack Obama to fail if his mission is to restructure and reform this country so that capitalism and individual liberty are not its foundation?" Limbaugh told attendees of the Conservative Political Action Conference that met last weekend in Washington, D.C.
Democratic National Committee Chairman Tim Kaine released a statement this week describing Limbaugh as "the leading force behind the Republican Party, its politics and its obstruction of President Obama's agenda in Washington."

By trying to link congressional and state Republican leaders to Limbaugh, Democrats hope that voters are turned off by the talk radio host's sometimes off-color and hyper-critical commentary. iReport.com: Sound off on Limbaugh
The RNC was contacted late Tuesday for comment, but had not yet responded.
E-mail to a friend

All About Rush Limbaugh • Republican Party