From Dana Bash and Ed Hornick
CNN






WASHINGTON (CNN) -- Sen. Ted Kennedy, who has been recuperating from brain cancer surgery, was back in Washington on Thursday as President Obama set out to tackle a major domestic policy item on his increasingly loaded plate: health care reform.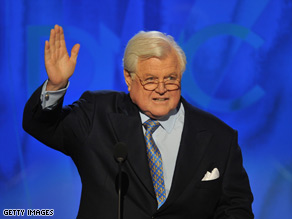 Sen. Ted Kennedy announced in 2008 that he had a brain tumor in his left parietal lobe.
During a bipartisan summit at the White House, Kennedy said that "now is the time for action" on health care reform.
About 150 people attended the summit, which included the president, members of Congress and leaders in the medical community. It was one of Kennedy's first public appearances since Inauguration Day.
"I'm looking forward to being a foot soldier in this undertaking, and this time, we will not fail," Kennedy said, to loud applause.
The summit focuses on reducing and containing costs as well as expanding coverage, one senior administration official said. Obama sees it as a starting point for tackling the overhaul of health care.
Kennedy, 77, suffered a seizure in May at his home on Cape Cod, Massachusetts. Shortly afterward, doctors diagnosed a brain tumor. He has been holed up in Massachusetts to recover, rarely returning to Washington.

Watch Kennedy's comments at the White House »
On Inauguration Day, the senior Democratic senator from Massachusetts again suffered a seizure, this time at a luncheon for members of Congress and the newly inaugurated president.
But according to aides, Kennedy has been meeting with his staff multiple times a day and is actively engaged in directing and coordinating movement on his committee on health care reform.
Ron Pollack of Families USA said Thursday that despite Kennedy's absence from Washington, his work championing health care goes on.
"Sen. Kennedy gets more done in Florida or Massachusetts in terms of what Congress needs to do than a lot of people do when they're here in Washington," he said. "So he has made sure that his staff and his committee are fully prepared for the health reform debate."
Kennedy's colleague Sen. Orrin Hatch of Utah said Thursday that although it's "hard when you're not here" pushing for reform, Kennedy has an "excellent staff and he is in constant communication with them on what he wants to do."
Don't Miss
Hatch, a Republican, said Kennedy's long history of working on the issue and outreach to the health care community will help him in his quest.
"He, more than any other person, can get those groups to move on health care, and that's one reason he is very important to this process," Hatch said. "He's got so much experience, he can spend less time on it than most people."
During his long political career, Kennedy has championed social causes such as health care, education, family leave and the minimum wage. He is the author of "In Critical Condition: The Crisis in America's Health Care."
Kennedy chairs the Health, Education, Labor and Pensions Committee and is a ranking member of the Judiciary and Armed Services committees.
Pollack says Kennedy is in constant contact with his colleagues in the Senate and his staff has been holding meetings for months on the health care issue.
"Now that he's here [in Washington], he's going to give a real life to this debate," Pollack added.
Recently, Kennedy's wife asked supporters to contribute to his political action committee, a donation she said would help him in the quest to establish health care for "all Americans."
"He believes that every American has the right to decent, quality, affordable health care, and fighting for that right is the cause of his life," Victoria Reggie Kennedy wrote in the e-mail sent by her husband's Committee for a Democratic Majority.
Obama's pitch on reforming health care -- praised by Kennedy -- may be resonating with Americans.

Watch more on Obama's prescription for change »
A recent national poll suggests that nearly three out of four Americans support government programs to improve the country's health care system.
In a CNN/Opinion Research Corp. survey released Thursday, 72 percent of those questioned said they favor increasing the federal government's influence over the country's health care system in an attempt to lower costs and provide health care coverage to more Americans, with 27 percent opposing such a move.
Other recent polls show that six in 10 think the government should provide health insurance or take responsibility for providing health care to all Americans.
"That doesn't mean that health care reform is a slam dunk," CNN polling director Keating Holland said. "Americans tend to support those goals. The question, just as in 1994, is how they will react to the details of future legislation to address those goals."
Health care was tied for third on the poll respondents' list of the most important issues for Obama and Congress to deal with over the next year. Forty-eight percent said that dealing with health care was extremely important, the same percent that chose education. Only the economy and terrorism were ranked as more important.

"Health care is more important to women than to men," Holland notes. "It is extremely important to Democrats. But Republicans don't see it as a top priority for the president and Congress to address this year."
The CNN/Opinion Research Corp. poll was conducted February 18 and 19, with 1,046 people questioned by telephone. The survey's sampling error is plus or minus 3 percentage points for some questions and plus or minus 4.5 percentage points for others.
E-mail to a friend

CNN Political Director Mark Preston contributed to this report.
All About Edward M. Kennedy • Health Care Issues • Barack Obama