Editor's note: Campbell Brown anchors CNN's "Campbell Brown: No Bias, No Bull" at 8 p.m. ET Mondays through Fridays. She delivered this commentary during the "Cutting through the Bull" segment of Friday night's broadcast.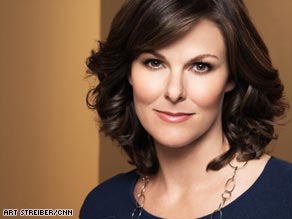 CNN's Campbell Brown says she endorses the idea that AIG won't get another dime if we don't get answers.
(CNN) -- We want to know why the Federal Reserve is helping insurance giant AIG keep its secrets.
Our bailout dollars have saved AIG. The newest commitment from the Treasury Department brings the total, so far, to more than $160 billion -- $30 billion promised this week alone.
The government's fear is that because AIG is tied to so many other companies, its failure could yank everybody down with it.
But this week, when Congress dared to ask the Federal Reserve who-all is getting a piece of the AIG bailout pie, lawmakers ran into a wall of silence.
The Fed's vice chairman, Donald Kohn, refused to give up the names of those who made a cash grab as some of the money merely went in and then right back out of AIG -- lining the pockets of some of its trading partners.
It's our money, so you'd think we have the right to know. These are not bonuses or grants -- they are loans.
We are doing Wall Street an expensive favor. And, as a nation, we expect to be made whole on the debt with no chance for money to be lost in the shadows of confidentiality. The Fed must stop trying to play interference when it comes to following the money.
'No Bias, No Bull'
Get the latest on the day's main events.
8 ET Monday through Friday

Congress is warning AIG won't get another dime if we don't get the answers.

Their message is one we wholeheartedly endorse. We expect -- we demand -- transparency and accountability from all those getting government help through our money.
The opinions expressed in this commentary are solely those of Campbell Brown.
E-mail to a friend

All About National Economy